ssc common eligibility test 2022 2023 nra cet notification 2023 download now national recruitment agency common eligibility test date ssc cet online exam date 2023 ssc common eligibility test online application form ssc cet apply online for direct stage 1 qualification for ssc banking railway exam ssc cet latest updates
NRA Common Eligibility Test 2023 CET Exam Date
LATEST UPDATE : Big News !! NRA may organize CET Exam for Government Jobs in Year 2023. As per news, First Ever CET may conduct in 1st Quarter of 2023. Read full news from Image below….
Check SSC Exam Calendar 2022-2023 Upcoming SSC Exam/ Notification Dates
Central Government has given permission for Formation of NRA. Screening will be done through CET for SSC, Bank, Railway Exams. National Recruitment Agency will organize Combined Exam for SSC, Railway Recruitment Board, IBPS. NRA will conduct CET for Group B & C Posts. Government will do formation of Agency in Last Quarter of this Year. Read full news regarding One Agency One Exam/ One Recruitment One Exam from Image below….

Central Government will open National Recruitment Agency (NRA) for recruitment of Non Gazetted Posts. In Union Budget, Finance Minister Nirmala Sitharaman has stated that their will be one exam for non gazetted posts. There will be Test Centre in Each District. Government will consider 112 Backward District first for this exam. Read full news from Image below…
Ministry of Personnel has proposed to conduct only one exam by any specialist agency for recruitment on Group B (Non Gazetted), Some Group B Gazetted and Group C Posts. Common Eligibility Test (CET) will conduct for these posts. Read full news from Image below….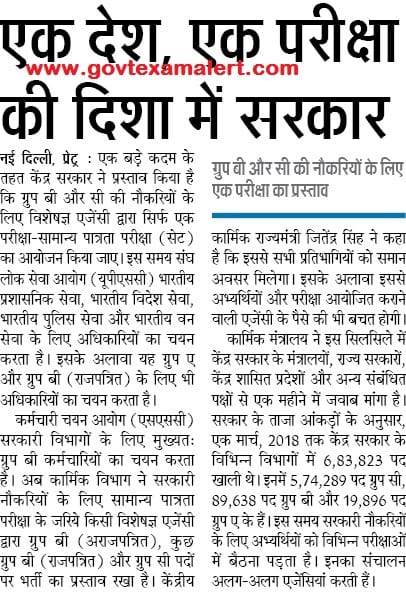 Staff Selection Commission (SSC) is an organization under Government of India to recruit staff for various posts in the various Ministries and Departments of the Government of India and in Subordinate Offices This commission is an attached office of the Department of Personnel and Training (DoPT) which consists of Chairman, two Members and a Secretary-cum-Controller of Examinations. His post is equivalent to the level of Additional Secretary to the Government of India.
SSC currently functions as an autonomous body that is mainly engaged in conducting competitive exams for recruitment to various posts in the SSC departments, organizations. Recently Finance Minister has announced to Form National Recruitment Agency. NRA will conduct Common Eligibility Test as a Qualification Criteria to directly qualify for Next Stage of SSC, Bank, Railway Exam. As Per News, This SSC CET Exam will conduct under Online Mode. NRAwill organize Common Eligibility Test for 10th Level, 12th Level & Graduate Level.
NRA CET Graduate Level Exam Eligibility Criteria : At First, SSC is planning to make experiment with Graduate Level Common Eligibility Test. Thus SSC will conduct Graduate Level CET First. Eligibility Criteria for this Common Eligibility Test 2020 will be Graduation. So All Graduate Candidates who are preparing for SSC, Banking, Railway Exams can apply for Graduate Level CET 2020.
Common Eligibility Test Exam Date/ NRA CET Exam Date 2022-23: As Per News, SSC will conduct its First Graduate Level Common Eligibility Test Next Year. SSC has started preparation to conduct this exam at graduate level. Candidates has to give this exam under online mode. SSC may conduct CET Online Exam will announce soon.
NRA Graduate Level CET Exam Date 2023 : Announce Later
SSC Common Eligibility Test (CET) Benefits, Validity : There are following benefits for candidates of First Graduate Level Common Eligibility Test 2023 :
Candidates who qualify this Common Eligibility Test will be directly Eligible for Next Stage/ Stage 2/ Mains Exam for SSC Graduate Level, Banking, Railway Graduate Level Exams.
As Per SSC, Validity for SSC Common Eligibility Test will be of Three Years.
CET will conduct twice in Year. NRA will conduct CET in 12 Languages.
Marks of SSC CET will decide Merit of Candidates for Next Stage of Exam.
Relevant Banking, Railway Departments will issue Notification for Next Stage of Exam for CET qualified candidates.
Important Points regarding NRA CET Exam 2023 :
There will be Exam Centres in every District for Common Eligibility Test.
Candidates can give CET Exam many times till Maximum Age Limit mention in Notice.
Best Score of Candidate will be considered.
CET Registration Process, Roll Number, Admit Card, Marks & Merit List will be conducted Online.
There will be Objective Multiple Choice Type Questions asked in Exam.
NRA CET Score will be shared with Private Companies.
There will be Separate CET for 10th, 12th & Graduate Candidates.
Departments will complete Selection Process separately after CET.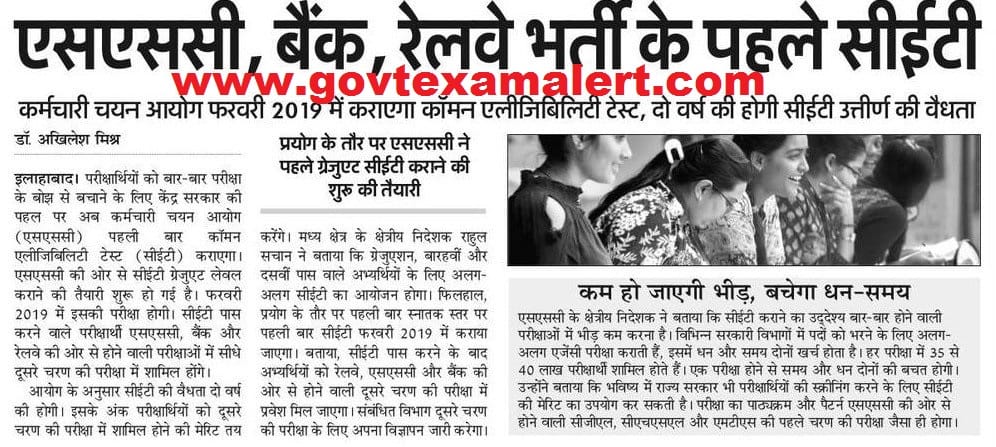 Candidates need to have regular watch on SSC Official Website for Common Eligibility Exam 2023 Latest Updates regarding Notification release Date, Online Application Dates. Candidates can bookmarks this Page (press CTRL+D) to get latest updates of SSC CET 2023.
Get More Details of SSC Common Eligibility Test 2023
Candidates can leave their Comments/ Query related to SSC Common Eligibility Test 2023. We will make a full try to solve your relative queries. You can send an E-Mail to [email protected] or send an message at our Facebook Page www.facebook.com/jobdisha