up lt grade syllabus 2023 download pdf file uppsc lt grade syllabus 2023 up lt grade subject wise syllabus up lt grade teacher bharti syllabus 2023 up lt grade teacher exam pattern up lt grade hindi english maths syllabus
UP LT Grade Syllabus 2023 LT Teacher Written Exam Pattern
LATEST UPDATE : Good News !! LT Grade Equivalent qualification has been determined, Official Notice will release soon. LT Grade Recruitment will now done by New Education Commission in Year 2023. If UPPSC conduct LT Grade Teacher Exam, UPPSC may introduce Two Stage Exam (Pre & Mains) for LT Grade Teacher. There will be Recruitment on 5000+ LT Grade Teacher Posts UP LT Grade Teacher Recruitment Process will start soon in Government Secondary Schools. Secondary Education Director has asked for Vacancies in Schools. Read full news from link given below….
Check UP 5418  LT Grade Teacher Recruitment 2023 Online Application Dates.
Big News !! UPPSC has introduced Negative Marking in LT Grade Written Exam. There will be Negative Marking of 0.33 Marks in Exam. Read Full News from Image given below…..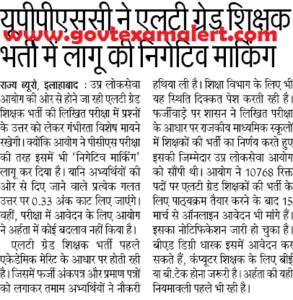 Click Here for UP LT Grade New Selection Process 2023 UPPSC LT Grade Teacher Exam
Online Applications for LT Grade Teacher are invited. Selection to the post of LT Grade Teacher will be based on Merit List of Written Exam. Earlier Secondary Education Council has announced 9342 Vacancies for LT Grade for various Subjects. These Subjects are :- (i) Hindi (ii) English (iii) Maths (iv) Science (v) Social Science (vi) Computer (vii) Urdu (viii) Biology (ix) Sanskrit (x) Art (xi) Music (xii) Commerce (xiii) Physical Education (xiv) Home Science (xv) Agriculture.
New Government in UP has decided to select Suitable candidates for Teacher Posts in government college by Written Exam. If All goes well Written Exam will conduct by UPPSC. More Than 5 Lacs Candidates has applied for UP LT Grade Teacher Posts. More than 1 Lac Candidates has applied for Social Science. On an average 60000 Candidates has applied for Each Subject. Candidates who have applied for LT Grade Posts must be looking for Written Exam Pattern so In this Article we will provide all relevant information regarding UP LT Grade Syllabus 2019 & Written Exam Pattern.
UP LT Grade Teacher Exam Pattern 2023
Official Notification for UPPSC LT Grade Written Exam Pattern & Syllabus 2023, has been issued by UPPSC. UPPSC will follow given exam pattern LT Grade Teacher Posts. UP LT Grade Teacher Exam Pattern is as Follows :-
| | | | |
| --- | --- | --- | --- |
| Part | Subjects | No. of Questions | No. of Marks |
| Part-1 | General Studies | 30 | 30 |
| Part-2 | Concerned Main Subject | 120 | 120 |
Written Exam consists of Objective Multiple Choice Type Questions.
Time Duration for Each paper is 02 Hours (120 Minutes).
There will be 150 Questions in Exam comprising of 150 Marks
There will  Negative Marking of 1/3 Marks in the Written Exam.
Paper 2 will be of that Specific Subject for which candidates has applied.
NOTE : For LT Grade Teacher Social Science (Male/ Female) Paper, there will be 04 Sections under Main Subject i.e Geography, History, Economics & Civics. There will be 60 Questions from each sections & Candidates have to attempt only 02 Sections.
UP LT Grade Syllabus 2023 UPPSC Written Exam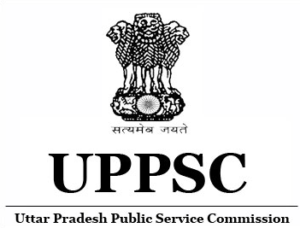 Based on the Exam Pattern Suggested above, UPPSC LT Grade Exam Syllabus 2023 has been provided. Written Exam date will announce later. So Candidates have 3, 4 months time to prepare. So Candidates has to start preparing for Exam From today. Check UP LT Grade Written Exam Syllabus 2023 below….
General Knowledge :- In General Awareness questions are asked from different topics which are as follows:
Important Days.
Indian History.
Books and Authors.
Indian National Movement.
Awards and Honors.
Budget and Five Year Plans.
General Polity.
Current Affairs – National & International.
International & National Organizations.
Science – Inventions & Discoveries.
Science & Technology.
Sports
Countries & Capitals.
General Knowledge of Uttar Pradesh
Current events of national and international importance :- On Current Events of National and International importance, candidates will be expected to have knowledge about them.
History of India and Indian National Movement :- In History emphasis should be on broad understanding social, economic and political aspects of Indian history. In the Indian National Movement, the candidates are expected to have synoptic view of nature and character of the freedom movement, growth of nationalism and attainment of Independence.
Indian and world Geography – Physical, Social, Economic geography of India and the World:- In World Geography only general understanding of the subject will be expected. Questions on the Geography of India will relate to Physical, Social &Economic Geography of India.
Indian Polity and Governance – Constitution, Political System, Panchayati Raj, Public Policy, Rights Issues, etc:- In Indian Polity, Economic and Culture, questions will test knowledge of country's political system including Panchayati Raj and Community Development, broad features of Economic policy in India and Indian Culture.
Economic and Social Development – Sustainable Development, Poverty, Inclusion, Demographics, Social Sector initiatives, etc:- The candidates will be tested with respect to problems and relationship between Population, Enviornment and Urbanisation.
General issues on Environmental ecology, Bio-diversity and Climate Change – that do not require subject specialization. General awareness of the subject is expected from candidates.
General Science :– Questions on General Science will cover general appreciation and understanding of Science including matters of every day observation and experience, as may be expected of a well educated person, who has not made a special study of any scientific discipline.
Note :- Candidate are expected to have general awareness about the above subjects with special reference to Uttar Pradesh.
Elementary Mathematics : In This Questions will be asked from Arithmetic, Algebra, Geometry. Question will be of 10th Class Level. Syllabus can be as follows :-
Arithmetic & Statistics : Number System, Percentage, Profit Loss, Statistics, Classification of Facts, Frequency, Frequency Distribution, tabulation, Cumulative Frequency. Formulation of Facts, Bar Chart, Pie Chart, Histogram, Frequency Polygon, Central measurement : Parallel Mean, Median & Mode & Polynomial.
Algebra : LCM & HCF, Relation between LCM & HCF, Simultaneous equations, Quadratic Equations, Factors, Area theorem.
Geometry : Triangle & Pythagoras Theorem, Rectangle, Square, Trapezium, The perimeter & Area of the parallelogram, The perimeter & Area of Circle.
Concerned Main Subjects :  In this section, the question will be asked from the concerned subject. This is the very Important section for prospective of the selection because 120 question asks from this subject. Some concern subject name is given below.
Hindi
English
Mathematics
Science
Social Studies
Computer
Urdu
Biology
Sanskrit
Art
Music
Commerce
Physical Education
Home Science
Agriculture
Click Here to Download UPPSC LT Grade Subject wise Syllabus .pdf File in English
Click Here to Download UPPSC LT Grade Subject wise Syllabus .pdf File in Hindi
Please Visit this Space for Details, Updates of UP LT Grade Teacher Syllabus & Exam Pattern 2023, LT Grade Written Exam Date & Latest Updates of Admit Card. For any Query/ Assistance leave a Comment in the Box below. You can also leave a message on our Facebook Page (www.facebook.com/jobdisha) OR Leave a mail to [email protected]
For More Details Please Visit : http://uppsc.up.nic.in/