BTEUP Date Sheet 2019 UP Polytechnic Even Semester Exam Scheme, Updates
bteup date sheet 2019 up polytechnic semester exam scheme upbte time table 2019 bteup odd even semester date sheet 2019 1st 2nd 3rd 4th 5th 6th semester exam scheme download bteup even semester scheme special backpaper exam dates Multi Point Entry Credit System Time Table 2018 Annual System Latest BTEUP Exam Scheme Updates
BTEUP Date Sheet 2019 Semester wise Exam Scheme
LATEST BTEUP Even Sem Exam UPDATE dated 16.03.2019 : Big News !! UP Polytechnic Annual Exams will now conduct in June, 2019. Dates are shifted due to lok sabha elections. Earlier BTEUP Even Semester Exam Date was 17 May, 2019. BTEUP Even Sem Exam Scheme will release after 25 March. Read full news from Image below….
BTEUP Odd Semester Exam Result 2018 will announce Today 11 February, 2019. If any student got failed in 4 Subjects then still he/ she will be promoted to next semester. Check Result from link given below…..
Check BTEUP Result 2018-19 UP Polytechnic Diploma Odd Semester Exams Result Date, Updates
BTEUP may close 5 Courses of PG Diploma. There is possibility that other courses might close also. read news from image below…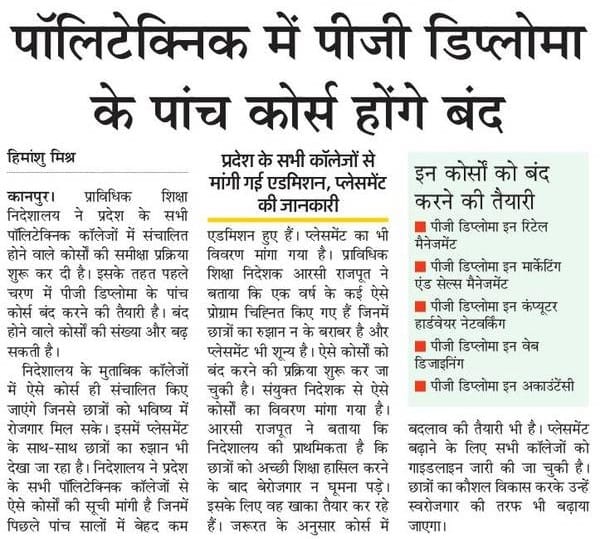 BTEUP has uploaded Revised Odd Semester Exam Scheme & Scheme for Community Development Scheme of Level -4 Examination December 2018. BTEUP Special Back Paper Exam, Multi Point Entry & Credit System December 2018 Examination Scheme is available for Download Now. BTEUP Examination Scheme/ Date Sheet for Odd Semester (December 2018) Exam is available Now. Semester Exams will starts from 08 December, 2018. Download BTEUP Odd Semester Date Sheet from link given below…..
From Now Onwards, Certificates of UP Polytechnic Courses will be available Online. Candidates will be able to Collect their MarkSheet, Certificates from e-District Portal and Jan Sewa Kendra. Read Full News from Image below…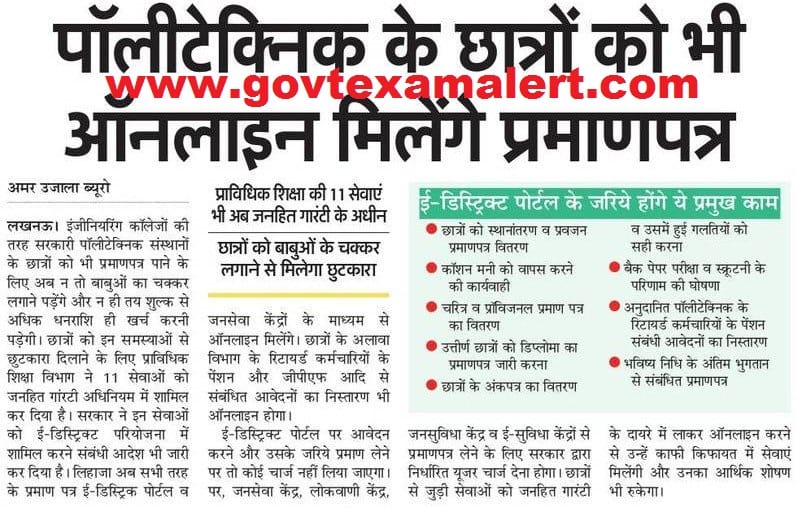 Good News !! from Now in BTEUP Courses, Practicals will be conducted more rather than theory. Students will be taught 40% Theory & 60% Practicals. This Scheme is applicable from this year. BTEUP has decided to send question papers of polytechnic exams to centres via online mode. There will be Bar Code in Answer Sheets in Exams. This step is taken to stop paper leak in BTEUP Exams.

From Now Onwards, Question Paper for Applied Subjects will be prepared/ conducted Zone Wise. Download Back Paper Exam Scheme from links given below….& Read Full News below…....
BTEUP will upload December Odd Semester/ May Even Exam Scheme on it Official Website…..Candidates can Download BTEUP Odd/ Even Semester Date Sheet 2019, Proposed Examination Scheme for Special Back Paper & Back Paper Examination , Multi Point Entry & Credit System from the links given below….
Board of Technical Education Uttar Pradesh, Lucknow conducts exam for Polytechnic Diploma Courses. Candidates of various streams took part in exam. Exam conducts for Even Semester & Odd Semesters. Details, Latest Updates of BTEUP Date Sheet 2018 will available in this Article.
About BTEUP : State Board Of Technical Education and Training" was set up in the state in May,1958. The Board conducted its first examination in 1960,for courses of diploma level and also for Draughtsman Certificate Course. The name of the state Board was changed to "Board Of Technical Education" in 1962.In the same Year, the "U.P. Pravidhic Shiksha Adhiniyam – 1962" was enacted awarding the Board statutory status. In the year 1962, year of its inception, the Board held the examination of about 2500 students, in three major disciplines of Civil, Electrical and Mechanical Engineering at 25 different Centers/Institutions.
The Board now examine and approve the syllabus developed by IRDT, Kanpur and prescribe it for institutions affiliated to Board of Technical Education, U.P. About 1,05,000 students in the 60 different disciplines of one year, two year, three year and four year durations are being examined at present, in the institutions, affiliated to the Board. The Board of has been constituted under U.P. Pravidhic Shiksha Adhiniyam – 1962. It has a Chairman and a Vice-Chairman and, 40 memebers nominated by the state Government. Secretary, Board Of Technical Education is ex-officio member secretary of the Board. At Present there are 126 Government Polytechnics, 468 Private Polytechnics & 18 Aided Polytechnics.
BTEUP Even Semester Exam Dates 2019: UP Polytechnic December Semester Exam will conduct for Odd Term. BTEUP will organize Exam for 1st, 3rd, 5th Semester of various courses/ diploma of 1st, 2nd & 3rd Year Diploma Students. Exam will also conduct for Special Back Paper Exam December 2018 & Multipoint Entry and Credit System Exam December 2018. In BTEUP May 2018 Semester Exam, 2.04 Lac Candidates were appear. UP Polytechnic Odd Semester Exam Dates has been announced Now. BTEUP 1st, 3rd & 5th Semester Exam was conduct in the month of December, 2018. Practical Exams will conduct in November, 2018. while BTEUP 2nd, 4th, 6th Semester Exam conducted in May, 2018. Read Full News from Image given below & Download Official Notification below…..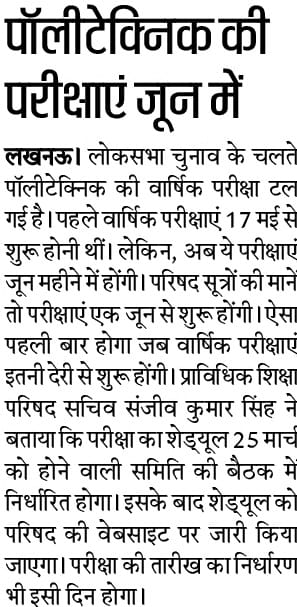 BTEUP Even Semester Exam Dates 2019 : from 01 June, 2019 (Tentative)
BTEUP Odd Semester Exam Dates (December, 2018 Exam) : 08 to 18 December, 2018
BTEUP Odd Semester Online Admit Card Download Date : from 15 November, 2018
BTEUP Even Semester Practical Dates : BTEUP will conduct Practical Examination for Odd Semester Students. Practical Exams will conduct before odd semester Written Examination. BTEUP will conduct Even Semester Practical Examination in November, 2018.
BTEUP Date Sheet Semester Exam Download LINKS
Download Proposed Examination Scheme for Community Development Scheme of Level -4 Examination December 2018
Click Here to Download BTEUP Odd Semester December Exam Scheme 2018 Date Sheet (updated on 04.12.2018): Available Now
Click Here to Download BTEUP Examination Scheme for Special Back Paper & Back Paper Examination (December-2018) : Available Now
Click Here to Download BTEUP Examination Scheme for Multi Point Entry & Credit System December, 2018 : Available Now
Click Here to Download Important Details of BTEUP Odd Semester Exam Syllabus 2018
BTEUP Date Sheet 2018 Even Semester May Exam Download LINKS
Click Here to Download BTEUP Date Sheet/ Examination Scheme for Multi Point Entry & Credit System (May 2018) Exam
Click Here to Download BTEUP Date Sheet/ Examination Scheme for Annual System (May 2018)
Click Here to Download BTEUP Date Sheet/ Examination Scheme for Semester System (May 2018)
Click Here to Download BTEUP Examination Scheme for Special Back Paper & Back Paper Examination (May-2018)
Latest Updates of BTEUP Date Sheet 2018 Even Semester May Exam will be available on our website www.govtexamalert.com. Candidates need to bookmark this page (Press CTRL+D) to get Timely Updates of UP Polytechnic Semester Exam Scheme 2018-2019. For any Query/ Assistance leave a Comment in the Box below. You can also leave a message on our Facebook Page (www.facebook.com/jobdisha) OR Leave a mail to disha@govtexamalert.com
For More Details Click Here : http://bteup.ac.in/webapp/default.aspx