ICSE Board Exam Scheme 2020 cisce exam scheme 2020 10th 12th exam cisce high school intermediate exam 2020 icse date sheet isc date sheet 2020 download now practical theory exam dates latest cisce exam scheme updates
ICSE Board Exam Scheme 2020 ICSE ISC Date Sheet Download
LATEST UPDATE dated 31.05.2020: CISCE has issued Notice regarding Change in Exam Centre for Remaining papers. CISCE has allowed Candidates for Centre Transfer. Students can Request for Centre Transfer start from 07 June 2020. Check Notice below…
Download Notice regarding Change of Examination Centre for the remaining papers of ICSE/ ISC Year 2020 Examinations.
Good News !! CISCE has uploaded schedule remaining ICSE & ISC Board Exams. 10th Exams will conduct from 02 to 12 July & 12th Exams from 1st to 14th July 2020. CISCE Board has announced schedule for 06 Papers in ICSE & 08 Papers in ISC. Download Schedule from link below….
Download Notice regarding Conduct of the remaining subject / papers of the ICSE & ISC Year 2020 Examinations.
Now Study in ICSE Board schools will be from NCERT Books. National Commission for Protection of Child Rights (NCPCR) has ordered CISCE to introduce NCERT Books in all Classes. Read full news below…
CISCE has uploaded date sheet/ time table for class 9th & 11th. Exams will be conducted in the month of November, 2019 & February, 2020. Students can Download Exam Scheme from the links given below….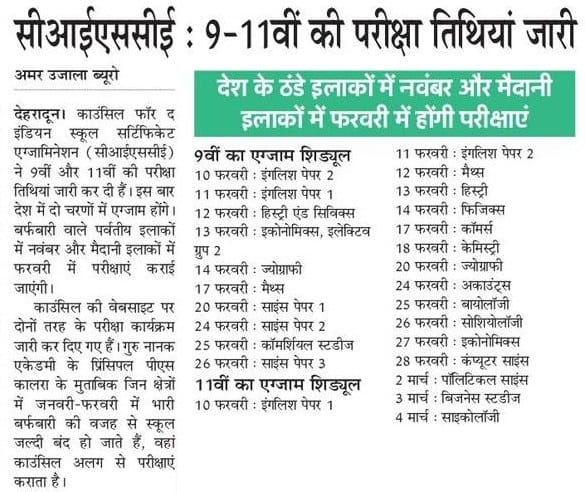 Council for the Indian School Certificate Examinations (abbreviated as CISCE) is a national level, private, Board of School education in India that conducts the Indian Certificate of Secondary Education and the Indian School Certificate examinations for Class X and Class XII respectively. It was established in 1958. The Council has been so constituted as to secure suitable representation of: Government of India, State Governments/Union Territories in which there are Schools affiliated to the Council, the Inter-State Board for Anglo-Indian Education, the Association of Indian Universities, the Association of Heads of Anglo-Indian Schools, the Indian Public Schools' Conference, the Association of Schools for the ISC Examination and members co-opted by the Executive Committee of the Council.
CISCE Every Year conduct Final Examination for High School & Intermediate Exam known as ICSE & ISC. CISCE Board Exams will conduct in the month of February/ March 2020. ICSE Exams will start from 3rd week of February 2020 while ISC Exams will start from 1st week of February 2020. Check Exam Dates below…
ICSE (Class X) Remaining Exam Dates : 02 to 12 July 2020
ICSE (Class XII) Remaining Exam Dates : 01 to 14 July 2020
CISCE ICSE Exam Dates : 3rd week of February to March, 2020
CISCE ISC Exam Dates : 03 February to 31 March, 2020
CISCE Board Exam Scheme 2020 : CISCE Board will upload Date Sheet for ICSE & ISC Exams. Students can Download Exam Scheme from Official website of CISCE. Links to Download Date Sheet are also provided below. Any Change in Date Sheet will be notified on Official Website.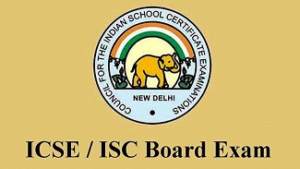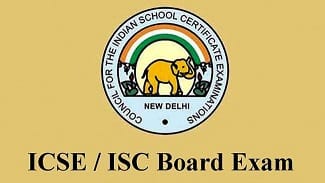 Changes in CISCE Passing Marks Criteria : From Year 2018 Onwards, Passing Marks for ICSE Examination would be 33% instead of present 35% and for the ISC Examination passing marks will be 35% instead of 40%. Students can download Official Notification regarding this from the link given below….
Click Here to Download Official Notification regarding CISCE Change in Pass Marks Criteria for ICSE & ISC Examination from Year 2018 onwards
CISCE Board Date Sheet Download Links 2020 : Students can download CISCE ICSE ISC Exam date sheet 2019 from the given below links….
Download CISCE Board ICSE Remaining Exams Date Sheet 2020 10th/ High School Exams
Download CISCE Board Remaining Exams ISC Date Sheet 2020 12th/ Intermediate Exams
Click Here to Download CISCE Board ICSE Date Sheet 2020 10th/ High School Exams
Click Here to Download CISCE Board ISC Date Sheet 2020 12th/ Intermediate Exams
CISCE Board 9th & 11th Date Sheet Download Links 2020
Download ICSE (Class IX) Annual Examination Timetable – November 2019
Download ICSE (Class IX) Annual Examination Timetable – February 2020
Download ISC (Class XI) Annual Examination Timetable – November 2019
Download ISC (Class XI) Annual Examination Timetable – February 2020
Download CISCE Board ICSE Compartment Exam Date Sheet 2019 10th/ High School Exams
Download CISCE Board ISC Compartment Exam Date Sheet 2019 12th/ Intermediate Exams
Candidates need to have regular watch on official cisce website. Latest Updates will also provided on this Page itself. Press CTRL+D to Bookmark & Get Latest Updates. For any Query/ Assistance leave a Comment in the Box below. You can also leave a message on our Facebook Page (www.facebook.com/jobdisha) OR Leave a mail to disha@govtexamalert.com
Check ICSE ISC Result 2020 CISCE Board 10th 12th Exam Result Date
For More Details Please Click Here