mjpru date sheet 2020 2021 download rohilkhand university semester exam scheme 2021 ug pg courses mjpru ug main exam scheme ba bsc bcom check mjpru pg main exam scheme ma msc mcom previous & final exam dates rohilkhand university exam date 2021 odd even semester exams
MJPRU Date Sheet 2020 2021 Rohilkhand University Main Exam Scheme
LATEST UPDATE dated 04.04.2021 : Good News !! MJPRU has uploaded UG Main Exam Scheme 2021, PG Main Exam Scheme 2021, BA LLB Back paper & Improvement Exam Scheme, B.Sc Paramedical Course, PGDCA, MSW, B.Com, BBA, BCA, BALLB Odd Semester Exams 2021. Download MJPRU Date Sheet 2021 from link below….
Annual Exams in Universities of Uttar Pradesh can conduct in April/ May 2021. Results will announce till 15 June 2021. Read full news from Image below….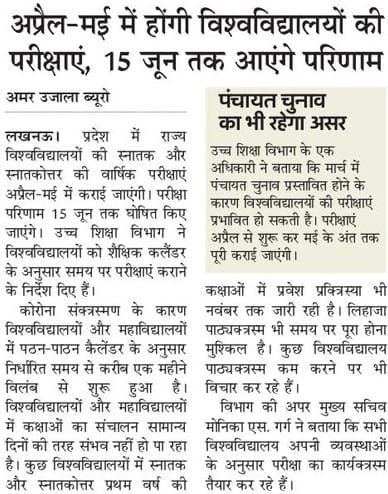 Higher Education Department has issued New Calendar for University Exams. For Evaluation, There will be Mid Term Exam, Sessional Exam, Tutorials, Assignments & Projects. Online Classes will start from 04 August 2020 while offline classes may start from 01 October, 2020. Read full news from Image below…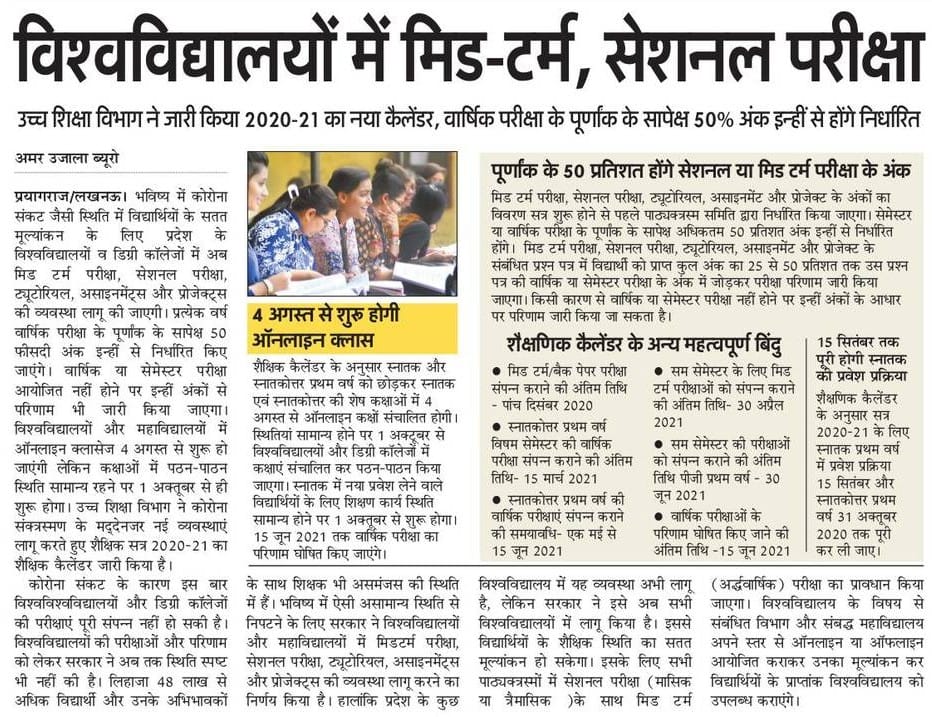 About MJPRU, Bareilly : M.J.P. Rohilkhand University was established in 1975 as an affiliating University. Its status was upgraded to affiliating-cum-residential university in 1985 when four teaching Departments were established in the campus. In 1987 three more Departments were added. In August 1997 Rohilkhand University was renamed as Mahatma Jyotiba Phule Rohilkhand University. The University has taken an overall perspective of development plan and thereby modified University status by including new Faculties of Engineering and Technology, Management, Applied Sciences, Education and Allied Sciences etc.
The existing faculties in the University are as under : Advanced Social Sciences, Applied Science, Education, Agriculture, Education & Allied Sciences, Arts, Commerce, Dental Sciences, Engineering & Technology, Law, Management, Sciences. The senior faculty members of different disciplines in Humanities, Science and Technology are running research projects funded by various agencies and so far 49 projects funded by UGC, AICTE, DST, CST, ICAR, ICHR, MIF have been completed. Teachers of the Affiliated college are also engaged in research projects funded by above agencies.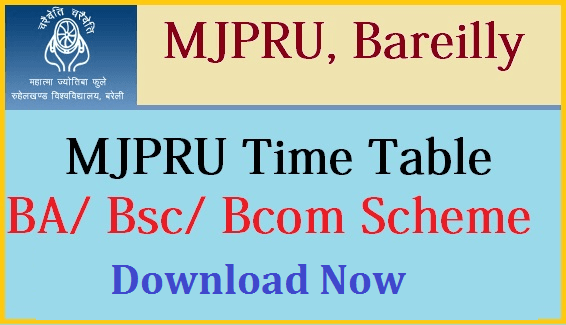 Courses Offered by MJP Rohilkhand University : Rohilkhand University has categorized Courses under University Campus Courses & Affiliated Colleges Courses. These Courses are for Graduation, Post Graduation, Diploma Courses. Categorization of MJPRU Courses is as follows :
University Campus Courses : These courses are running under MJPRU Campus-
M.A
M.Phill
B.Tech
M.Sc
M.Pharma
M.Ed
MBA
MCA
LLM
MSW
MRDM
B.Ed
PGDCA
BHMCT
P.G. Diploma In Women Empowerment And Development
P.G. Diploma In Entrepreneurship Development
Click Here to Get Full Details of MJPRU University Campus Courses (Branch wise List)
Affiliated Colleges Courses : These courses are running under Affiliated Colleges-
BA
B.Sc
BBA
BCA
B.Ed
B.P.Ed
LLB
B.Com
MBBS
BDS
MA
M.Sc
Click Here to Get Full Details of MJPRU Affiliate College Courses (Branch wise List)
MJPRU Exam Date 2021 : MJP Rohilkhand University conducts Mains Exam/ Semester Exams for Undergraduate, Post Graduate, Vocational, Diploma Courses & Post Graduate Diploma Courses. MJPRU every year conduct exam for university campus courses & affiliated college courses. As per MJPRU Exam Scheme, B.A., B.Sc. & B.COM. (U.G.) Main Exam – 2021) conduct in March/ April while M.A., M.Sc., M.Com, (Previous & Final) Main Exam 2021 conduct in April 2021.
MJPRU UG Main Exam Dates : 01 May to 18 June 2021
MJPRU PG Main Exam Dates : 08 May to 02 June 2021
MJPRU All Odd Semester Exam Dates : Announce Later
All Information of MJPRU Date Sheet 2021 for Semester Exams & Main Exams will be available on Official Website (http://www.mjpru.ac.in). Details of All Courses/ Branches Exam Scheme/ Time Table will upload on MJPRU Website. Download Date Sheets from links given below….
MJPRU Date Sheet 2021 Main Exam Download LINKS (updated on 04.04.2021)
Aspirants need to have a regular watch on MJPRU Website. Rohilkhand University Results Latest News Updates will also available on www.govtexamalert.com. So Bookmark this Page (Press CTRL+D) & get regular result Updates. You can leave your query regarding MJPRU Result 2021 in the Comment Box. We will try to be responsive. Leave an email at Disha@govtexamalert.com for Assistance.
Click Here for MJP Rohilkhand University All Exam Scheme 2021
Click to Get Details of MJPRU UG/ PG Main & Semester Exam Result 2020 2021/ Rohilkhand University All Exam Results
For More Details Click Here >>> http://www.mjpru.ac.in