uppsc exam calendar 2020 latest uppsc exam date schedule 2020 pdf up lt grade exam date up pcs ro aro exam date schedule latest uppsc exam updates up public service commission uppsc new exam calendar 2020 uppsc new exam dates schedule uppsc revised exam calendar 2019 download pdf file
UPPSC Exam Calendar 2020 Upcoming Exam Dates .pdf file in Hindi
LATEST UPDATE dated 15.01.2020 : Big News !! UPPSC has cancelled RO ARO 2016 Pre Exam. UPPSC will now conduct fresh exam for Review Officer 2016 Exam. Pre Exam will conduct in May, 2020. Check Exam Cancellation Notice & New Pre Exam Date from link below….
UPPSC has uploaded Exam Calendar for Year 2020. Various Exams Like PCS, BEO, Assistant Engineer will conduct this Year. Download UPPSC Exam Calendar 2020 from link below….
UPPSC has made Screening Test mandatory in All Direct Recruitment. Now Selected will not based on only Interview or Academic Marks except recruitment having less vacancies or special qualifications. There will be Negative Marking in Screening Test also. Read full news from Image below…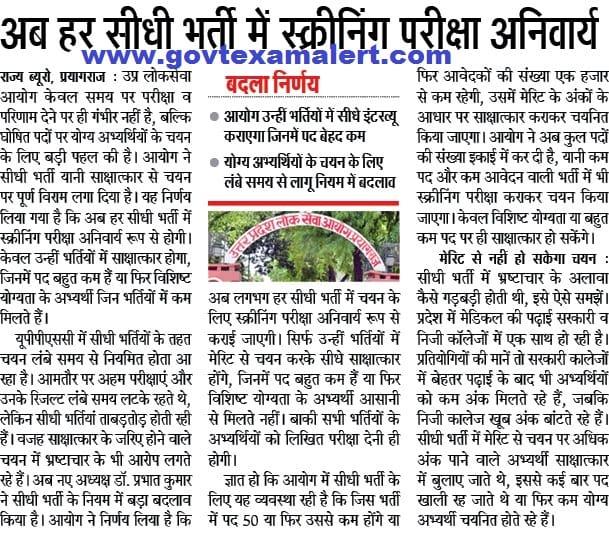 UP Government has made correction in 100 Point Roster in Uttar Pradesh for Reservation to EWS Candidates. Now every 10th Post out of 100 Posts will be reserved for Economically weak General Candidate. Read full news from Image below….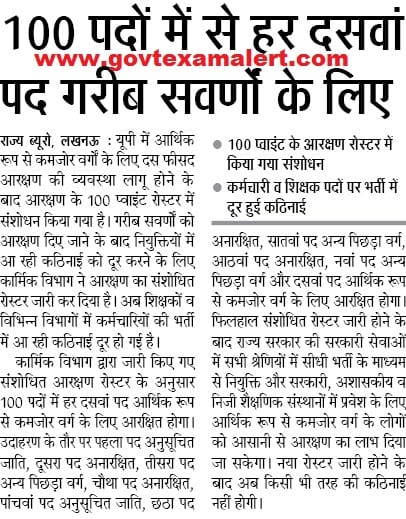 10% Reservation Benefit for Economically Backward General Category Candidates will be applicable from 01 February, 2019. Thus In Vacancies/ Recruitment issued after 01 February 2019, General Candidates will get 10% reservation benefit. Read full news from Image below…..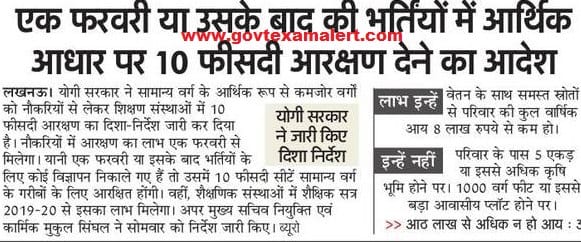 UPPSC will introduce Negative marking in Screening Exams. UPPSC is going to change selection process for recruitment which conduct screening exam. Now 50% Marks of Screening Test will be added, thus selection will be based on 50% marks of Written test & Interview. read full news from image below…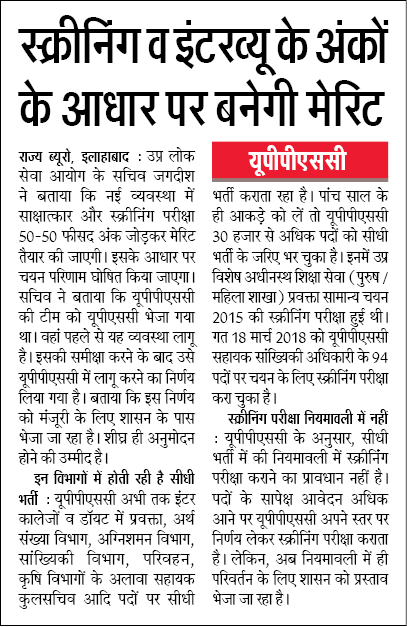 The Uttar Pradesh Public Service Commission (UPPSC) came into existence on April 1, 1937, with the main aim of recruiting candidates to various services in the state. The commission is regulated by Uttar Pradesh Public Service Commission Regulation, 1976. It is the state agency authorized to conduct the Civil Services Examination for entry-level appointments to the various Civil Services of Uttar Pradesh.
Uttar Pradesh Public Service Commission every year conduct important exams for recruitment on group b posts. List of Examinations Conducted by the U.P. Public Service Commission time to time. (Direct recruitment through interviews only as per the service rules of various posts). In Year 2019 UPPSC will conduct various Exams like UP PCS Pre Mains Exam, RO ARO Pre Exam, LT Grade Written Exam etc. Exams conduct by UPPSC generally are as follows :
Combined State/Upper Subordinate Preliminary Examination.
Combined State/Upper Subordinate Main Examination.
Combined State/Lower Subordinate Examination.
R.O/A.R.O Preliminary Examination (Only for the Commission)
R.O/A.R.O Main Examination(Only for the Commission)
A.P.S. Examination(Only for the Commission and secretariat of U.P. and Revenue)
Assistant Registrar Examination
Combined State Engineering Examination.
U.P. Nyayic Seva (Junior Division) Examination
Assistant Prosecuting Officers Examination
UPPSC Exam Date/ Schedule for Year 2020 (January to December 2020)
UPPSC will conduct various exams in year 2020. Details of Exams to be conducted by UPPSC from January 2020 to December 2020 is given below……candidates can download uppsc exam calendar 2020 .pdf file also from the link provided below….
| | | |
| --- | --- | --- |
| Name of Exam | Written Exam/ Typing Test Date | Admit Card Details |
| RO ARO (Review Officer) Exam 2017 Typing Test | 18 January, 2020 | Get Exam Details |
| Programmer/ Programmer Grade 1/ Programmer Grade 2/ Computer Operator typing test | 19 January, 2020 | Get Exam Details |
| Unani Medical Officer Screening Exam 2016 | 22 January, 2020 | Get Exam Details |
| Assistant Prosecution Officer Pre Exam, 2018 | 16 February, 2020 | Get Exam Details |
| UPPSC ACF/ RFO Mains Exam 2018 | from 23 February, 2020 | Get Exam Details |
| Block Education Officer (BEO) Pre Exam 2019 | 22 March, 2020 | Get Exam Details |
| Computer Assistant Exam 2019 | 05 April, 2020 | Get Exam Details  |
| UPPSC PCS Mains Exam 2019 | from 20 April, 2020 |  Get Exam Details |
| RO ARO (Review Officer) 2016 Pre Exam | 03 May, 2020 | Get Exam Details |
| Assistant Prosecution Officer Mains Exam, 2018 | from 16 May, 2020 | Get Exam Details |
| Combined State Engineering Services/ Assistant Engineer Exam 2019 | 07 June, 2020 | Get Exam Details  |
| UPPSC PCS 2020 & ACF/ RFO Pre Exam | 21 June, 2020 |  Get Exam Details |
| Assistant Manager (Non Technical) Screening Exam 2016 | 30 June, 2020 | Get Exam Details |
| UPPSC ACF/ RFO Mains Exam 2019 | 16 August, 2020 |  Get Exam Details |
| Block Education Officer (BEO) Mains Exam 2019 | 13 September, 2020 | Get Exam Details |
| UPPSC PCS Mains Exam 2020 | 15 October, 2020 |  Get Exam Details |
| UPPSC ACF/ RFO Mains Exam 2020 | 03 December, 2020 |  Get Exam Details |
Download UPPSC Exam Calendar 2019-2020.pdf File (For Exams from September 2019 to December 2020)
For any Query/ Assistance leave a Comment in the Box below. You can also leave a message on our Facebook Page (www.facebook.com/jobdisha) OR Leave a mail to disha@govtexamalert.com
For More Details Please Visit : http://uppsc.up.nic.in