uppsc recruitment 2023 latest uppsc job vacancy news alerts uppsc recruitment notification 2023 for various group b exam Latest UPPSC Jobs Notice 2023 of Review Officer PCS Civil Judge Judicial Service Upper Subordinate Assistant Engineer Computer Assistants in Uttar Pradesh UPPSC Online Application
UPPSC Notifications 2023 Latest UPPSC Exams, Apply Online
LATEST UPDATE : Big News !! From Now Recruitment Proposal will be sent in Online Mode at E Adhiyachan Portal. Students can done correction 3 times in OTR after final submit. OTR (One Time Registration) will be necessary to apply for UPPSC Exams.  UP Government has given approval for UP Secretariat Additional Private Secretary Service Rulebook 2023. UPPSC may now issue Recruitment Notification for 300 APS Posts. UPPSC has released New Exam Calendar for Year 2023. Download Calendar from link below….
Download UPPSC Exam Calendar 2023 .pdf File (For Exams from January to December, 2023)
UPPSC may introduce one time form filling process. UPPSC has issued Recruitment Notification for Medical Officer & Other Various Posts. From Now Onwards, Candidates will qualify for Mains Exam 15 Times of Total Posts & 3 Times Candidates will call for Interviews. Check Official Notice from link below….
Download Notice regarding Change in No. of Qualify Candidates for Mains Exam & Interview
Other State Candidates will not get reservation benefit based on Economic Basis. Other State EWS Category candidates will not get benefit in UP Government Jobs. Read full news from Image below….
UP Government has taken Information from All Departments regarding vacancies of Group A, B, C, D. Now Government will decide whether to start Recruitment Process in Current Financial Year or not. Government may also give permission for recruitment on Important Post & Postpone other recruitments till next year. Read full news from Image below….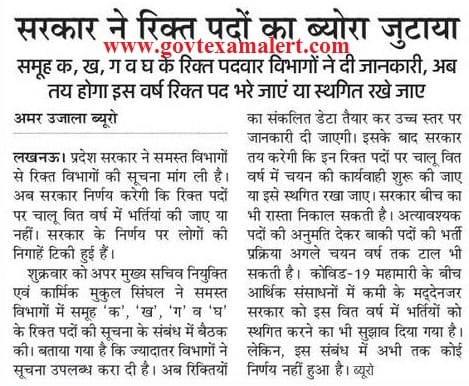 Now EWS Category Candidates will get 10% Reservation in Recruitment/ Job Exams by UPPSC. EWS Reservation in UPPSC 2020 Bill has been passed. Read full news from Image below….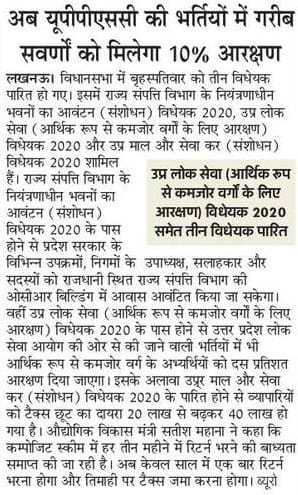 UP Government has made correction in 100 Point Roster in Uttar Pradesh for Reservation to EWS Candidates. Now every 10th Post out of 100 Posts will be reserved for Economically weak General Candidate. Read full news from Image below….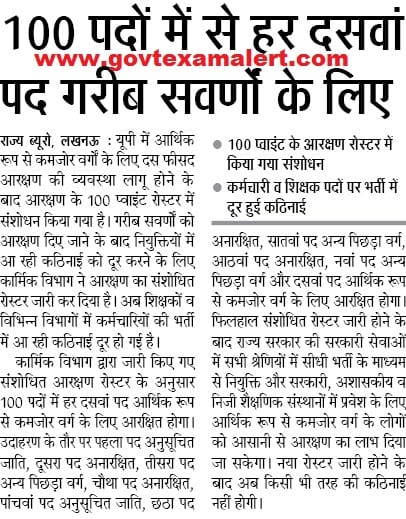 The Uttar Pradesh Public Service Commission (UPPSC) came into existence on April 1, 1937, with the main aim of recruiting candidates to various services in the state. The commission is regulated by Uttar Pradesh Public Service Commission Regulation, 1976. It is the state agency authorized to conduct the Civil Services Examination for entry-level appointments to the various Civil Services of Uttar Pradesh.
Uttar Pradesh Public Service Commission every year conduct important exams for recruitment on group b posts. List of Examinations Conducted by the U.P. Public Service Commission time to time. (Direct recruitment through interviews only as per the service rules of various posts). In Year 2023 UPPSC will conduct various Exams like UP PCS Pre Mains Exam, RO ARO Pre Exam, LT Grade Written Exam etc. Exams conduct by UPPSC generally are as follows :
Combined State/Upper Subordinate Preliminary Examination.
Combined State/Upper Subordinate Main Examination.
Combined State/Lower Subordinate Examination.
R.O/A.R.O Preliminary Examination (Only for the Commission)
R.O/A.R.O Main Examination(Only for the Commission)
A.P.S. Examination(Only for the Commission and secretariat of U.P. and Revenue)
Assistant Registrar Examination
Combined State Engineering Examination.
U.P. Nyayic Seva (Junior Division) Examination
Assistant Prosecuting Officers Examination
Latest Ongoing Recruitment in UPPSC in Year 2023
Click Here for One Time Registration (OTR) for Applicants 2023
| | | |
| --- | --- | --- |
| Name of Recruitment/ Exam | Online Application Last Date | Link to Apply Online |
| UPPSC Staff Nurse Unani Recruitment 2023 27 Posts | 01 January 2024 | CLICK HERE |
| UPPSC RO ARO Exam Notification 2023 UP Review Officer 411 Posts | 24 November, 2023 | CLICK HERE |
| UPPSC APS Vacancy 2023 Additional Private Secretary 300 Posts | 16 November, 2023 | CLICK HERE |
| UPPSC Various Vacancy Notice 84 Posts | 16 November, 2023 | CLICK HERE |
| UPPSC System Analyst Vacancy 2023 | 21 October, 2023 | CLICK HERE |
| UPPSC Staff Nurse Ayurveda Recruitment 2023 300 Posts | 18 October, 2023 | CLICK HERE |
| UPPSC Staff Nurse Recruitment 2023 Sister Grade 2 2240 Posts | 29 September, 2023 | CLICK HERE |
| UPPSC Assistant Town Planner Vacancy 2023 24 Posts | 21 September, 2023 | CLICK HERE |
| UPPSC Assistant Chemist Recruitment 2023 02 Posts | August 2023 | CLICK HERE |
| UPPSC Homeopathic Medical Officer Recruitment 2023 54 Posts | August 2023 | CLICK HERE |
| UPPSC Dental Surgeon Recruitment 2023 174 Posts | 21.07.2023 | APPLY ONLINE NOW |
| UPPSC Mines Officer & Other Posts Recruitment 2023 395 Posts | 21.07.2023 | APPLY ONLINE NOW |
Upcoming UPPSC Recruitment/ Exams Notification in Year 2023