dei admission form 2023 dei entrance test notification date online application form session 2023-2024 DEI Entrance Test Application Form Dayalbagh Educational Institute Entrance Exam Admission form DEI Entrance Test Date 2023 apply online DEI Agra admission Important Dates Eligibility Latest News Apply UG/ PG Course
DEI Admission Form 2023 UG/ PG/ Diploma Entrance Exam Online Application Form
LATEST UPDATE : Online Applications for DEI Admission Session 2023-24 has started. Candidates can apply online For Diploma, Undergraduate, B.Voc., B.F.A., B.Arch. & B.Tech. Courses, B.Ed., M.Ed., M.Voc. and other Postgraduate & P.G. Diploma Courses. Keep in touch with us for latest updates….
The Government of India conferred the status of a Deemed University on Dayalbagh Educational Institute (DEI), Dayalbagh, Agra under Section 3 of the University Grants Commission Act by notification No.F.9-3/78-U-3 dated 16th May, 1981. Dayalbagh Educational Institute or DEI is an educational institution located at Dayalbagh in city of Taj Mahal, Agra. periphery.The Institute initiated a major program of Distance Education to benefit students residing in remote tribal locations.
Dayalbagh Educational Institute Conducts Entrance Exam every Year for Undergraduate, Postgraduate & PG Diploma courses. Candidates can Get Information regarding DEI Course/ Programmes for Graduation (after 10+2 Exam), Courses after Graduation, Post Graduate Diploma Programmes, Integrated Programmes, Diploma Programmes offered by Technical College (after 10th pass), VOCATIONAL COURSES UNDER DEEN DAYAL UPADHYAY KAUSHAL KENDRA (After 12th Pass), Modular Programmes, Certificate Programmes. Get Full Details about Courses below :-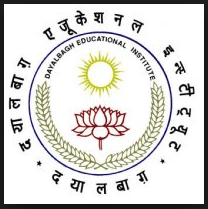 PROGRAMMES/ COURSES FOR GRADUATION (AFTER 10+2) :
Bachelor of Arts (Honours) : • Drawing & Painting • English Studies • Hindi • Home Science • Music • Sanskrit & Culture
Bachelor of Fine Arts (BFA) : • Applied Art (30) • Painting (20) • Sculpture (10)
Bachelor of Science (Home Science Honours)
BA Social Science (Honours) : • Economics • Political Science • Psychology • Sociology
Bachelor of Business Administration (Honours)
Bachelor of Commerce (Honours)
Bachelor of Science (Honours) : • Physics • Chemistry • Mathematics • Botany • Zoology • Computer Science
Bachelor of Technology : • Civil (60) • Electrical (60) • Mechanical (60) • Footwear Technology (60)# # (BCom/BBA (Hons.) Integrated
Bachelor of Architecture (B.Arch)
Bachelor of Technology (Electrical) (Part‐time)
PROGRAMMES AFTER GRADUATION :
Bachelor of Education (B.Ed)
Master of Arts (MA)
Master of Business Administration (MBA)
Master of Commerce
Master of Commerce (Specialization in International Business)
Master of Science : • Botany/Botany (Plant &Microbial Biotechnology) (12) • Chemistry (12) • Mathematics/ Mathematics (Computer Applications) (12) • Physics/Physics (Electronics)/Physics (Computer Science) (12) • Zoology (12) • Computer Science (10)
Master of Education
Master of Philosophy (M.Phil.)
M.Tech in Engg. Systems & MTech in Engg. Systems with Specialization in
Computer Science
AGE LIMIT: Maximum age 21 years (24 for SC/ST) as on 1st July, 2023, except for female applicants and applicants for B.Ed./ Post Graduate courses; B.Tech.(Part‐time); B.Voc.; Etc. For Diploma in Engineering and Polytechnics maximum age limit is 22 years (25 years in case of SC/ST).
Eligibility Criteria : Minimum Educational Qualification for Undergraduate Courses is 12th/ Intermediate while for Post Graduate Courses is Graduation etc. Download Detailed Information Brochure regarding Full Information for Eligibility Criteria for All Courses.
Selection Process : Admission in DEI will be based on Cumulative Score of Academic Merit, Written Test & Personal Interview.
Application Fee : The Application Form giving full particulars must be submitted in the Institute on or before the last date along with the fee towards the Registration and Application Processing as under:
Non‐Professional Courses : BA (Honours)/ BA (Social Science)(Honours)/ BCom (Honours)/ BSc (Home Science) (Honours)/ BSc (Honours)/ MA (Arts)/ MA (Social Science) /MCom/ MSc(Home Science)/ MSc : Registration Fee (Rs. 5) + Application Processing Fee (Rs. 225/‐) = Total: Rs. 230/‐ Per Course.
Professional courses :  BTech/ MTech/ BArch/ BEd/ MEd/ BBA (Honours)/ BFA/ BVoc/ MVoc./ MBA/ PG Diploma Courses/ Diploma in Ayurveda/ MPhil/ PhD : Registration Fee (Rs. 5) + Application Processing Fee (Rs. 265/‐) = Total: Rs. 270/‐ Per Course.
NOTE : For online and paper‐based Application Forms, the sum of Rs. 230/‐ or Rs. 270/- per course as the case may be, can be deposited using SBI site http://www.onlinesbi.com as under:
a)   Payment can be made online (Net banking or Debit/ Credit Card) using State Bank of India site mentioned above by choosing the option "State Bank Collect".
b)   In case the payment is being made in cash, the applicant needs to download and print the challan from SBI site mentioned above and submit the fee in any branch of State Bank of India using this printed challan.
Online Application/ How to Apply : Candidates seeking admission must apply on or before the last date using the submission of Common Application Form which is available on the Institute's website http://www.dei.ac.in. Instructions given, therein, must be read carefully before filling up the form. Facility for online filling up of the Application Form would also be available at the Institute for which the candidates may contact Help‐ Desk Counter in the Institute. Applicants can apply for more than one course in one application form. In addition to the main Campus, applicant can appear for the Written Text at any of the location specified while filling the application form online for the specific programme. However, the Institute can assign any centre for the written test to the applicant as it deems fit.
Paper‐based Prospectus alongwith the Application Form will be available at the Institute Counter. The filled Common Application Form with no enclosures must be submitted on or before the last date of submission.   As with online applications, multiple courses can be applied using only one Paper‐ based Application Form.
IMPORTANT DATES
Starting Date Online Application Form : April, 2023
Last Date of Online Application Form : 30 April, 2023
Written Exam Date : from 16 May, 2023
Commencement of New Session : July, 2023 (Expected)
Vocational Certificate Programmes:
Online Applications shall start from: 15th June 2023
The last date for Online Submissions: 15th July 2023
LAST DATE (For Diploma/All Undergraduate/B.Voc./B.F.A./B.Arch. & B.Tech. Courses) : 30 April 2023
LAST DATE (B.Ed./M.Ed./M.Voc./All Postgraduate & Postgraduate Diploma Courses) : 30 April 2023
Note: For Submission of qualifying examination marks after the declaration of result, the portal will remain open for the applicants. However, the last date for uploading 20 marks will be notified separately on the Institute Website.
Download DEI Entrance Test/ Admission Notification/ Important Dates Session 2023-24
Download DEI Entrance Test Information Brochure/ Prospectus Session 2023-24
Click Here to Apply Online for DEI Admission 2023-24 : Started Now
For More Details Click Here >>> https://www.dei.ac.in/dei/admission
You can leave your query regarding Syllabus in the Comment Box. We will try to be responsive. Leave an email at [email protected] for Assistance.