UP Police SI Syllabus 2023 Download pdf UP Police SI Online Exam Pattern 2023 SI Confidential ASI Clerk Accounts UPP Sub Inspector New Exam Syllabus Uttar Pradesh Police SI Syllabus UPP SI Syllabus 2023 Latest Exam Pattern Sub Inspector Male Female up si bharti syllabus previous paper
UP Police SI Syllabus 2023 UPP Sub Inspector Online Written Exam
LATEST UPDATE : Good News !! UP Police Recruitment Board will make Recruitment on 2469 Sub Inspector Posts in Year 2023. Recruitment Process will start after Completion of ongoing 9534 SI Bharti. Read full news from Link below…
Check UP Police 2469 Sub Inspector Recruitment 2023 UPP SI Apply Online Dates
Government has decided to give Big Relaxation in UP Police Sub Inspector Recruitment (Daroga Bharti). Now Candidates have to attain 35% in each section instead of 50% Mark but candidates have to attain minimum 50% Marks (200 Marks) Overall in exam. Read full news of UP Police SI New Cut Off criteria from Image below….

UP Police will invite Online Application for Sub Inspector Male & Female Posts & Police Sub Inspector (Confidential), Assistant Sub Inspector Clerk & Assistant Sub Inspector Accounts. Online Computer Based Written Exam will conduct for Sub Inspector Post. There will Vacancies for SI Male & SI Female. UP Police has changed the Exam Process. Earlier Exam conducts under Offline Pen Paper Mode but from 2017 onwards Written Exam for Sub Inspector Male Female Post conduct under Online Mode.
You might like : UP Police Sub Inspector Previous Paper SI Male Female Online Exam MOCK TEST 2023
Lacs of Male & Female Aspirants had filled Online Application for Sub Inspector & Platoon Commander Posts. Detailed Information of UP Police Sub Inspector Selection Process, Online Exam Pattern & Syllabus is provided here. You can also Download UP SI Syllabus 2023 in Hindi in .pdf Format.
UP Police SI New Selection Process 2023 :- UP Police Sub Inspector & Platoon Commander Selection Process is as follows :-
Computer Based Online Written Test
Physical Standard Test & Documentation
PET (Physical Efficiency Test)
Medical Examination
UP Police Sub Inspector Online Exam Pattern 2023 : Important Points related to UP Police Sub Inspector Computer Based Exam is as Follows :
Online Exam will be of Multiple Objective Type.
UPP SI Online Exam will be of Total 400 Marks.
There will be Total 160 Questions in the Written Exam
There will be Four Parts/ Subject in SI Exam, Each Part is of 40 Questions & 100 Marks.
Time Duration for Online Exam is 120 Minutes (02 Hour)
Questions will ask from General Hindi, Law/ Constitution/ General Knowledge, Numerical & Mental Ability Test, Mental Aptitude Test/Intelligence Test/Test of Reasoning.
There is No Negative Marking in UP Police SI Exam.
UP Police SI CBT will conduct on Different Dates & Different Shifts.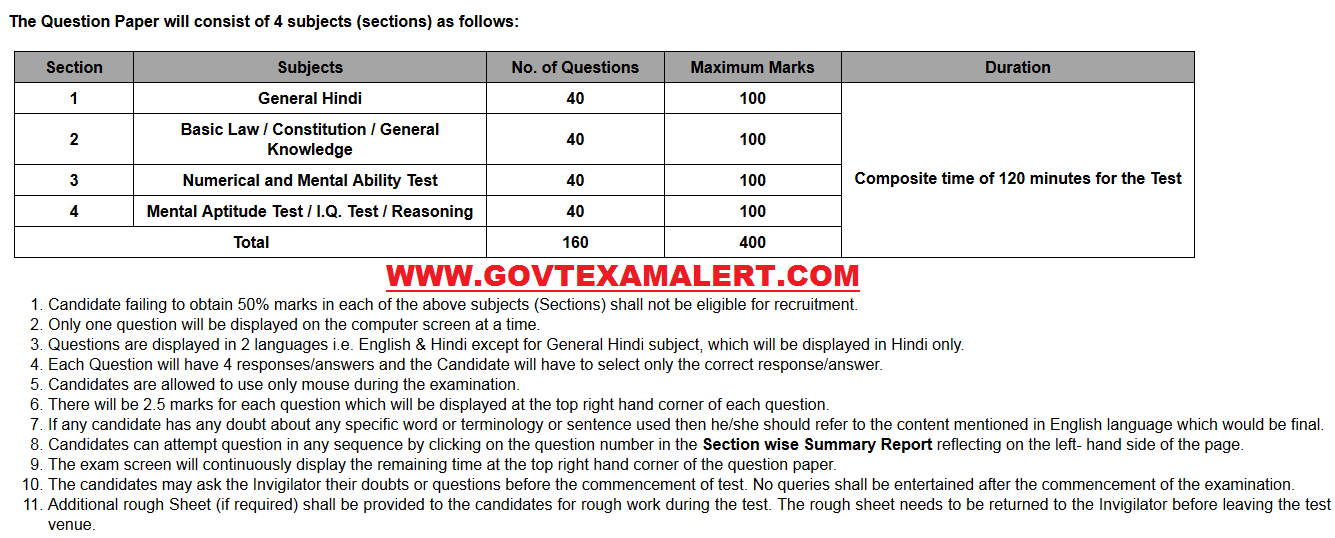 NOTE : Candidates who get Minimum 35 % Marks in each subject & Overall 50% Marks will qualify for Next Round. So Aspirants need to work hard for UP Police SI Written Exam to get minimum cut off Marks.
Click Here to Download UP Police Official Notification regarding Sub Inspector New Online Exam Pattern
:UP Police Sub Inspector Syllabus 2023:
UPP SI Syllabus for Four Subjects are as follows :
General Hindi : Hindi & Other Indian languages, Hindi Grammer, Antonym, Synonym, One word Substitution, Comprehension, Famous Writer, Books, Different Prizes, Idioms & Phrases.
Law & Constitution:- General Knowledge about Indian Constitution, Aim of Constitution, Fundamental Rights, Directive principles, Rules & Regulations of constitutional Amendments, All India Service, Information about social Law related to women, children, Reservation of SC/ ST, Environment, Wild Life Conservation, Human Rights, Traffic Rules, National Security Issues, Principle of Crime Punishment, Right of Self Defence, General Knowledge about Law.
General Knowledge : General Science, Health Science, Indian History, Freedom Movement, Indian Economics & Culture, Agriculture, Population & Urbanization, FDI, World Geography, National & International Events, Knowledge of Culture of Uttar Pradesh, Basic Knowledge of Computer, Information Technology, Social Media Information.
Numerical & Mental Ability Test:-
Numerical Aptitude :- Number System, Simplification, Decimal & Fraction, HCF LCM, Ratio & Proportion, Percentage, Profit & Loss, Discount, Simple Interest, Compound Interest, Partnership, Time & Work, Distance, Use of Table & Graph, Mensuration & Miscellaneous.
Mental Aptitude Test/Intelligence Quotient Test/Test of Reasoning :-
Mental Aptitude Test:- Public Interest, Law & Order, Communal Harmony, Crime Control, Rule of Law, Ability of Adaptability, Professional Information (Basic level), Police System, Contemporary Police Issues & Law and order, Basic Law, Interest in Profession, Mental Toughness, Sensitivity towards minorities and underprivileged & Gender sensitivity.
Intelligence Quotient Test :– Relationship and Analogy Test, Spotting out the dissimilar, Series Completion, Coding-Decoding, Direction Sense Test, Blood Relation, Problems based on alphabet, Time sequence test, Venn Diagram and chart type test, Mathematical ability Test, Arranging in order.
Test of Reasoning:- Questions will be from topics- Analogies, Similarities, Differences, Space visualization, Problem solving, Analysis and Judgment, Decision-making, Visual memory, Discrimination, Observation, Relationship, Concepts, Arithmetical reasoning, Verbal and figure classification, Arithmetical number series, Abilities to deal with abstract ideas and symbols and their relationships, Arithmetical computations and other analytical functions.
Download UP SI Syllabus in Hindi : Candidates can download detailed syllabus in Hindi from the link given Below:-
Click Here to Download UP Police SI Syllabus in Hindi pdf File (Male Female Sub Inspector Posts)
उ0प्र0 पुलिस में उपनिरीक्षक गोपनीय, सहायक पुलिस उपनिरीक्षक, लिपिक एवं सहायक उपनिरीक्षक लेखा की सीधी भर्ती-2020 के मूल्यांकन के सम्बन्ध में सूचना ।
उत्तर प्रदेश पुलिस लिपिक, लेखा एवं गोपनीय सहायक संवर्ग सीधी भर्ती-2020 के अन्तर्गत लिखित परीक्षा हेतु प्रक्रिया का प्रकाशन ।
Any Change in UP Police Sub Inspector Online Exam will Notify on Official UP Police website. We will also update you regarding UP Police Sub Inspector Syllabus & Computer Based Test. Leave Your Valuable Comments in the Comment Box given here. We will try to answer your query soon.
To Get More Info of UP Police SI Syllabus 2023 Click Here