upsssc vdo syllabus 2021 download pdf file up vdo syllabus in hindi up vdo exam pattern 2021 upsssc gram panchayat adhikari syllabus reasoning hindi general knowledge panchayat secretary exam pattern up vdo subject wise syllabus 2021
UPSSSC VDO Syllabus 2021  Gram Vikas Adhikari Written Exam Pattern
UPSSSC VDO Bharti Latest Update dated 05.04.2021: Good News !! UPSSSC will conduct VDO Re Exam after Panchayat Election. As per News, All 14.27 Lakh Candidates will allow to give exam. UPSSSC has cancelled Gram Panchayat Adhikari/ Gram Vikas Adhikari Exam 2018 which was conducted on 22, 23 December 2018. Check UPSSSC Advt 02-Exam/2018 Cancellation Notice from link below…..
आयोग के विज्ञा0सं0-02-परीक्षा/2018, सम्मिलित ग्राम पंचायत अधिकारी, ग्राम विकास अधिकारी (स0क0) एवं समाज कल्याण पर्यवेक्षक (सा0च0) प्रतियोगितात्मक परीक्षा-2018 को निरस्त किये जाने के संबन्ध में सूचना
UPSSSC will start Recruitment Process for VDO Posts in year 2021. As per news, there will be recruitment on 4000 posts of VDO, Junior Engineer, Stenographer, Junior Assistant, Lower Subordinates & Other Cadre. Read full news from Image below…
Click Here for UPSSSC Gram Panchayat Adhikari Recruitment 2021 VDO Apply Online Dates
Sammilit Gram Panchyat Adhikari, Gram Vikas Adhikari and Samaj Kalyan Prayveksh (Samanya Chayan) Pratiyogitatmak Pariksha
Uttar Pradesh Subordinate Services Selection Commission (UPSSSC), Lucknow will start Recruitment Process for Gram Panchayat Adhikari, Gram Vikas Adhikari (VDO) Posts. UPSSSC has planned to give Big Relief to Job Aspirants. UPSSSC will prepare Same Exam Pattern & Syllabus for All Same Category Posts, thus Gram Panchayat Adhikari, VDO Vacancies will come together. There can be Same Syllabus & Exam Pattern for these Posts. Read Full News from Image given below….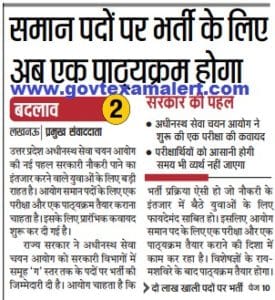 Government Job Aspirants, who are looking for reputed VDO, Panchayat Secretary posts must be looking for Syllabus & Exam Pattern for these Posts. There can be same Syllabus for above mentioned Posts, So Candidates need not to prepare separately for this exam. Information Regarding UP VDO Syllabus 2021, UPSSSC VDO Syllabus 2021, UP Gram Panchayat Adhikari Syllabus 2021, UP Gram Vikas Adhikari Syllabus 2021 is provided in this Article. So Read Full Article to get Detailed Information regarding UP VDO Written & Physical Exam Pattern 2021.
UP VDO Selection Process 2021 : Selection for UP VDO Post will purely based on Merit of Written Exam. After Written Exam, Document Verification will be conducted for successful candidates. As Interviews has been scrapped from Group C Posts so there can be no Interview this time. So Written Exam is main to get VDO Job in Uttar Pradesh.
UP VDO Exam Pattern 2021 : Written Test comprises of Following Points :-
Written Exam will consists of Obejctive Multiple Choice Type Questions.
Written Exam can be conducted in Either Online Mode or Offline Mode.
There can be 100 Questions in Exam comprises of 300 Marks.
Time Duration for Written Test is 120 Minutes (2 Hours).
There will be Negative Marking of 1/2 Marks in UP VDO Exam 2018.
There can be No Interview in Exam. Written Exam Pattern can be as follows
Subjects
Questions/
Marks
हिंदी परिज्ञान एवं लेखन योग्यता
50
100
General Intelligence Test (सामान्य बुद्धि परीक्षण)
50
100
General Knowledge

(सामान्य जानकारी)

50
100
TOTAL
150
300
UPSSSC VDO Syllabus 2021 :- UPSSSC Gram Vikas Adhikari Syllabus is as follows :
General Hindi : उक्त भाग में अभ्यर्थियों से हिंदी भाषा के ज्ञान, समझ तथा लेखन योग्यता संबंधी प्रश्न पूछे जाएंगे। यह भाग उत्तर प्रदेश माध्यमिक शिक्षा परिषद की हाई स्कूल परीक्षा अथवा समकक्ष परीक्षा के स्तर का होगा।
अलंकार, रस, समास, पर्यायवाची, विलोम, तत्सम एवं तदभव, सन्धियां, वाक्यांशों के लिए शब्द निर्माण, लोकोक्तियाँ एवं मुहावरे, वाक्य संशोधन – लिंग, वचन, कारक, वर्तनी, त्रुटि से सम्बंधित अनेकार्थी शब्द।
General Intelligence Test : The purpose of this is the ability to test the candidate's understanding of a new situation, analyze and identify its various elements. Questions in this test will be based on the Understanding and explore instructions, relationships, similarities, consistent, conclusions and actions etc.
TOPICS : Analogies, similarities and differences, space visualization, arithmetical reasoning and figural classification, arithmetic number series, non-verbal series, Coding and decoding, Figural Series, Classification, Statement & Conclusion, Venn Diagrams etc.
General Knowledge : This part of question paper is to assess the candidates' ability regarding general knowledge about his/her surroundings and about its use in society. In this test such a question which will be kept to check current events and everyday science and the facts of experience which may include historical and geographical facts. (Specially Related to India) and judged them to the knowledge of the scientific aspects, which can be expected of any educated person.
TOPICS : History, Uttar Pradesh Culture, Monuments, Geography, General Science, Current Affairs & GK of Uttar Pradesh, Indian Polity.
Download UPSSSC Official Syllabus for Gram Panchayat Adhikari & VDO Exam 2018
Check UPSSSC Exam Calendar 2018 Upcoming UPSSSC Exam Date/ Schedule, Updates
Govt Job Aspirants need to have regular watch on Official UPSSSC Website regarding New UPSSSC VDO Syllabus 2021. You can Bookmark this Page (CTRL+D) to get Latest Updates. We will provide you all tit & bit of UPSSSC VDO Syllabus, Recruitment 2021. So Keep Visiting Government Exam Alert. You can leave your query regarding UPSSSC VDO Syllabus 2021 in the Comment Box. We will try to be responsive. Leave an email at Disha@govtexamalert.com for Assistance.
For More Details Please Click Here