upsssc exam calendar 2023 latest upsssc exam dates upcoming upsssc exam dates schedule 2023 upsssc news alert upsssc exam dates 2022 for upcoming vdo technical assistant exam dates upsssc exam dates/ schedule latest upsssc exam updates
UPSSSC Exam Calendar 2023 Latest UPSSSC Exam Date/ Schedule
LATEST UPDATE : Good News !! UPSSSC has released syllabus for X Ray Technician, Enforcement Constable, Dental Hygienist Exam Syllabus 2023.  UPSSSC Mukhya Sevika, PET Exam Date has announced now. Get Details from link below…..
Check UPSSSC Recruitment 2023 Latest/ Upcoming UPSSSC Group C Jobs Dates
UPSSSC has announced VDO & Junior Engineer Re Exam Date. Now UPSSSC will make Recruitment on 14000+ Posts. UPSSSC Exam Calendar 2023 may release this month. UP Government has stated that Recruitment on vacancies will complete in 6 months. There will be recruitment on more than 03 Lakh Posts. Recruitment Process may start after 3 months. Read full news from link below….
UPSSSC will introduce two tier recruitment method i.e Pre Eligibility Test to select suitable candidates till Formation of NRA & adding State Job Vacancies through Common Eligibility Test (CET). Read full news from Image below….
Click Here for NRA Common Eligibility Test 2023 CET Date for SSC Bank, Railway Exam
UPSSSC will conduct two Exams for Group C Posts. As per news, UPSSSC will now conduct Pre Eligibity Test (PET) First to select Candidates for Next Stage. Based on Percentile (merit) Candidates will call for Mains Exam, Skill Test, Physical Test. Candidates will be called 15 times of Vacancies for Mains Exam. UPSSSC has made mandatory to fill Adhar Number in Online Application Form in upcoming Recruitment in Year 2023. Read full news from image given below…

UPSSSC will make recruitment on 15000 Posts every year now. As per News, UPSSSC will conduct two exams & start recruitment process for two vacancy each month. Calendar for all these recruitment is prepared now. UPSSSC may also conduct Online Exam for posts above than junior assistant. Read full news from Image below…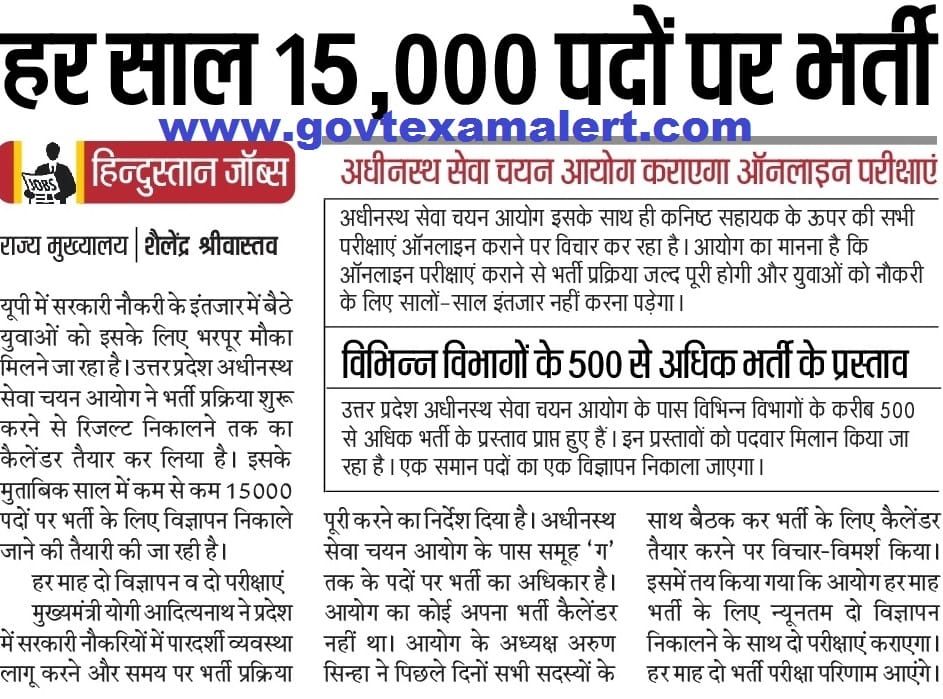 Download UPSSSC Official Notice regarding Normalization Process in Written Exams conducting of various date/ shifts
Big News !! For making Exam Transparent, UPSSSC is going to make a big change. UPSSSC will make more than one Question Paper for Exam from different Press. UPSSSC will conduct Exam in Less District & before few minutes of exam, Invigilator inform about Question paper set in exam. Candidates has to submit Question Paper too. Read full news below…
The Uttar Pradesh Subordinate Services Selection Commission (UPSSSC) is the state organization authorized to conduct the various examination for appointments to the various posts. UPSSSC conducts various exams in the Uttar Pradesh. Uttar Pradesh Subordinate Services Selection Commission constituted under the provision of the U.P. Subordinate Services Selection Commission Act 2014. UPSSSC conduct Exams for Various Group B & Group C Posts.
Exams Conduct by UPSSSC : List of Some Examinations conducted by the U.P. Subordinate Services Selection Commission time to time are : Junior Assistant Examination, Conductor Examination, Stenographer Examination, Clerk, Forest Guard, Boring Technician, Lekhpal, Pharmacist, Revenue Inspector, Junior Engineer, Gram Panchayat Adhikari, Gram Vikas Adhikari etc.
After Formation of New Government in Uttar Pradesh, There was pause on New Vacancies & Old Vacancies were under Vigilance inquiry. UPSSSC was dissolved but in year 2018 UPSSSC was re organized again. After that UPSSSC has issued Notification for Yuva Vikas Dal Adhikari, Physical Instructor, Gram Panchayat Adhikari, Gram Vikas Adhikari, Supervisor, Technical Assistant Group C Agriculture Posts. Candidates who applied in these exams must be waiting for Exam Dates of these exams. Under this article, you will get information of upsssc exam calendar 2023 & upcoming Written Exam Dates.
UPSSSC Exam Date/ Schedule for Year 2023
Click Here for Upcoming Jobs in UP 2023 Latest Uttar Pradesh Recruitment News, Department wise Vacancies
| | | |
| --- | --- | --- |
| Name of Exam | Written Exam/ Interview Dates | Admit Card Details |
| UPSSSC Junior Engineer II 2016 DV Date (Advt 28/2016) | 23 February to 16 March, 2023 | Get Full Details |
| UPSSSC Combined Technical Service Exam 2016 Advt 23/2016 486 Posts | 26 March, 2023 | Get Full Details |
| UPSSSC ITI Instructor Exam 2022 2504 Posts | Announce Soon | |
| UPSSSC Forest Guard/ Vidhan Sabha Rakshak PET Date 2021 Advt 05/2019 655 Posts | from 20 March to 17 April, 2023 | Get Full Details |
| UPSSSC ASO ARO Document Verification Date 2023 Advt 06/2022 | 25 April to 17 May, 2023 | Get Full Details |
| UPSSSC Forest Inspector/ Van Daroga Exam Date 2023 Advt 06/2022 | 30 April, 2023 | Get Full Details |
| UPSSSC Junior Engineer Re Exam Date 2023 Advt 04/2018 | 27 May, 2023 | Get Full Details |
| UPSSSC VDO, Gram Panchayat Adhikari, Supervisor Exam 2018 Advt 02/2018 1953 Posts | 26 & 27 June, 2023 | Get Full Details |
| UPSSSC Junior Assistant Exam Date 2023 Advt no 08/2022 | 27 August 2023 | Get Full Details |
| UPSSSC Lekhpal Document Verification Date | 19 September to 30 November 2023 | Get Full Details |
| UPSSSC Mukhya Sevika Exam Date 2023 | 24 September, 2023 | Get Full Details |
| UPSSSC PET Exam Date 2023 Advt 07/2023 Pre Eligibility Test | 28 & 29 October, 2023 | Get Full Details |
| UPSSSC Junior Assistant Exam Date 2023 Advt no 09/2022 | Announce Later | Get Full Details |
| UPSSSC Gram Panchayat Adhikari Main Exam Date 2023 Advt 01/2023 | Announce Later | Get Full Details |
| UPSSSC X Ray Technician Exam Date 2023 Advt 02/2023 | Announce Later | Check Syllabus |
| UPSSSC Dental Hygienist Exam Date 2023 Advt 03/2023 | Announce Later | Check Syllabus |
| UPSSSC Enforcement Constable Exam Date 2023 Advt 04/2023 | Announce Later | Check Syllabus |
| UPSSSC Accountant & Auditor Exam Date 2023 Advt 05/2023 | Announce Later | |
| UPSSSC Eye Testing Officer Exam Date 2023 Advt 06/2023 | Announce Later | |
| UPSSSC Junior Assistant Exam Date 2023 Advt no. 08/2023 | Announce Later | Get Full Details |
| UPSSSC Stenographer Exam Date 2023 Advt no. 09/2023 | Announce Later | Get Full Details |
| UPSSSC Forest Guard Exam Date 2023 Advt no. 10/2023 | Announce Later | Get Full Details |
Download UPSSSC Exam Calendar 2022 for Exams from May to December, 2022 .pdf File
Download UPSSSC Exam Calendar 2021-2022 for Exams from August 2021 to March 2022 .pdf File
Click Here to Check Status of Various UPSSSC Exams/ Recruitment from Year 2016 to 2019
For any Query/ Assistance leave a Comment in the Box below regarding upsssc exam calendar 2023. You can also leave a message on our Facebook Page (www.facebook.com/jobdisha) OR Leave a mail to [email protected]
Check UPPSC Exam Calendar 2023 Latest/ Upcoming UP Exam Dates/ Schedule, Updates
Check SSC Exam Calendar 2023 Upcoming SSC Recruitment/ Exam Date Updates
For More Details Please Visit : http://upsssc.gov.in/