bsf hc ro syllabus 2023 download pdf bsf head constable radio operator syllabus 2023 check bsf head constable syllabus 2023 border security force hc rm exam pattern selection process exam date physical exam descriptive test subject wise syllabus
BSF HC RO Syllabus 2023 Head Constable Radio Operator/ Radio Mechanic Exam Pattern
LATEST UPDATE dated 22.04.2023 : BSF has issued Notification for 247 Posts of Head Constable RO & RM. Candidates can apply online from 22 April, 2023. Download BSF HC RO Detailed Notice & Apply Online from link below….
Click Here for BSF 247 Head Constable Recruitment 2023 HC RO/ RM Online Application
Border Security Force Communication Cadre Recruitment 2023 : Online Applications are invited from Male & Female Indian citizens belonging to General, Schedule Castes, Scheduled Tribes and other backward classes for the Non Gazetted & Non Ministerial post of Head Constable (RM) and Head Constable (RO) in BSF Comn Set-up in Group C Temporary Basis. Candidates who are willing to fill this form, must be looking for Written Exam Syllabus, Physical Test Syllabus & Selection process for BSF HC RO & HC RM Posts. Information regarding bsf hc ro syllabus 2023, bsf head constable syllabus & Exam pattern 2023, bsf pet pst exam pattern, bsf head constable exam pattern 2023 is available on this Page. Get Details below….
नयी 15000+ सरकारी नौकरियों के लिए ऑनलाइन आवेदन करें (Apply for New Govt Jobs 2023)
BSF Head Constable RO/ RM Selection Process 2023 : Selection Process for BSF Head Constable RO/ RM Exam will be as follows :
The recruitment process will consist of Written Test, Physical Standard Test (PST), Physical Efficiency Test (PET), Documentation,  and Medical Examination.
Physical Standards Test (PST) /Physical Efficiency Test (PET), Documentation, Written Test, and Medical examination will be conducted by the BSF at respective States.
Candidates who qualify in Written Test will only be eligible to appear in PET/PST, Descriptive Test, documentation & Medical Exam Date.
FIRST PHASE –WRITTEN TEST
i) OMR Based screening test – 04 June, 2023
Note :- i) Duplicate OMR sheet attached with main OMR will be allowed to be carried along with candidates.
ii) Answer key may be uploaded on BSF website on following days of examination.
iii) The result of written test qualified candidates will be announced through internet and uploaded on BSF web site www.bsf.nic.in. Qualified Candidates will take part in Next Stage/ Phase.
ii) SECOND PHASE :-
PST, PET, Documentation : This Process will start from 16 January 2023. Candidates have to qualify PST/ PET/ DV Process for further appearing in Next Stage i.e. 2nd Written Test (Descriptive Exam)
Descriptive Written Test :
a) FOR HC (RM):- Candidates who qualify descriptive test will attend 2nd phase.
b) FOR HC(RO):- Candidates must qualify descriptive test as well as dictation test during this phase.
ii) SECOND PHASE :- Final Medical Exam
FINAL RESULT:- Final result will be prepared for HC(RM) & HC(RO) Separately and merit will be prepared in following manner:
HC/RM : Total Marks obtained in descriptive test out of 200 marks
HC/RO : Total marks obtained in OMR Test, descriptive test and dictation tests out of total marks (200+50 respectively).
BSF HC RO & HC RM Written Exam Pattern 2023 (OMR BASED SCREENING TEST) :
The written examination of 03 hours duration will be conducted at selected centers on the date and time fixed by HQ DG BSF. In the written examination question paper, there will be 100 questions of 200 marks, divided in following four parts:-
| | | | |
| --- | --- | --- | --- |
| | Subject | No. of Questions | Marks |
| Part I | Physics | 40 | 80 |
| Part II | Mathematics | 20 | 40 |
| Part III | Chemistry | 20 | 40 |
| Part IV | English & G K | 20 | 40 |
Negative Marking : – For a question of 2 marks of multiple-choice based, 0.50 marks will be deducted for each wrong answer. There will be one OMR based composite paper consisting of above mentioned four parts and the question paper will be "OMR BASED OBJECTIVE TYPE WITH MULTIPLE CHOICES". Question paper will be printed both in English as well as Hindi for each post. The minimum qualifying marks of written test are as under:-Direct Entry:-
i) General/ OBC – 38 %
ii) SC/ST – 33%
However, number of candidates to qualify in OMR Based screening test and further to appear for descriptive written test shall be restricted to 10 times the number of vacancies for recruitment post.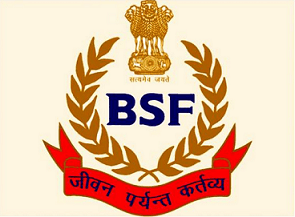 BSF Head Constable Radio Operator/ Radio Mechanic Syllabus 2023
Physics : Physical world and measurements, Laws of Motion, Work, Energy and Power, Gravitation, current electricity, magnetism, optics, reflection and refraction, electronic devices, communication system etc. (as per 10+2 / Intermediate of CBSE/ State Boards of education)
Chemistry : Atoms, elements and their properties, chemical bonding, molecular structure, matter, gases, liquid, metals, non-metals, acids, carbon, hydrogen, equilibrium, isolation, compounds etc. (as per 10+2 / Intermediate of CBSE/ State Boards of education)
Mathematics : Relations, trigonometry, complex numbers, quadratic equations, sequence and series, geometry, mathematical reasoning, statistics, mean, median, mode, deviation, variance etc. (as per 10+2 / Intermediate of CBSE/ State Boards of education)
General Awareness/ General Knowledge : The test will include questions relating to India and its neighboring countries especially pertaining to Sports, History, Culture, Geography, Economic Scene, General polity, Indian Constitution and scientific research.
Basic Knowledge of English : Candidates' ability to understand correct English, his basic comprehension and writing ability, etc. would be tested. Questions will be asked from error recognition, fill in the blanks (using verbs, preposition, articles etc), Vocabulary, Spellings, Grammar, Sentence Structure, Synonyms, Antonyms, Sentence Completion, Phrases and Idiomatic use of Words, etc.
DESCRIPTIVE TEST–  The candidates who qualifies OMR based written test/ PST/ PET will appear in descriptive test. A separate call letter will be issued to all qualified candidates by recruitment centre concerned to attend the descriptive test as well Second phase.
FOR HC/RM CANDIDATES:- A Paper of maximum 200 marks covering Physics, Chemistry, Maths, Logical Reasoning & Electronics subject (12th standard/Diploma level). Time Duration will be 180 Minutes
FOR HC/RO CANDIDATES :- A paper of maximum 150 marks covering Physics, Chemistry & English (12th standard). Time Duration will be 150 Minutes.
DICTATION TEST :
Dictation test (in English writing) of minimum 100 words – 50 Marks & Paragraph Reading will be qualifying Nature.
NOTE : Qualifying marks for the dictation test will be 38% for General/ OBC and 33% for SC/ST candidates.
BSF HC RO & HC RM Physical Efficiency Test (PET) : 
| | | |
| --- | --- | --- |
| Event | MALE | FEMALE |
| RACE | 1.6 KMs in 6.5 minutes | 800 meters in 4 minutes |
| LONG JUMP | 3.65 meters (3 chances) | 09 feet (3 chances) |
| HIGH JUMP | 1.2 meters (3 chances) | 03 feet (3 chances) |
BSF Head Constable Radio Operator/ Mechanic Physical Standard Test (PST) :
| | | |
| --- | --- | --- |
| Categories | Height in cms | Chest in cms |
| Schedule Tribes/ Adivasis of all states and Union territories including Nagas and Mizos. | 162.5 cms | 76-81 cms |
| Men belonging to Garhwalis, Kumaonis, Gorkhas, Dogras, Marathas and candidates belonging to the states of Sikkim, Nagaland, Arunachal Pradesh, Manipur, Tripura, Mizoram, Meghalaya, Assam, Himachal Pradesh, Kashmir and Leh & Ladakh regions of J&K | 165 cms | 78-83 cms |
| For all Other States and Union Territories (except categories mentioned above) | 168 cms for Male & 157 cm for Female | 80-85 cms |
Candidates are advised to have a regular watch on official bsf website. Latest Updates regarding BSF HC RO Syllabus 2023 Exam Dates will be available from this page. You can Bookmark this Page (CTRL+D) to get instant updates of Exam. If Your are facing any problem or want to ask any question then  please write it in the comment box. we will help you soon. Feel Free to Write an Email to [email protected] regarding your queries.
For More Details of BSF Head Constable HC RO & HC RM Exam Click Here