railway recruitment notice 2023 latest jobs in railway rrb recruitment 2023 for 1.30 Lakh Posts rrc group d recruitment railway 1.30 lakh job vacancies in 2023 recruitment Notification Railway Recruitment Board RRB Assistant Loco Pilot Junior Engineer NTPC Stenographer Gangmen Trackmen Jobs Latest Railway Job Vacancies Updates
Railway Recruitment Notice 2023 Latest RRB RRC Jobs Apply Online
LATEST UPDATE : Railway has invited Online Applications for North Central Railway, East Central Railway, Western Railway, BLW & Others. As per RTI, There are 2.74 Lakh Vacant Seat in Railway. Apply Online for New Railway Jobs from link below…..
Online Applications start for RKVY Scheme 26th Batch has started now. Candidates can apply online from 06 November to till 20 October, 2023. Indian Railway will provide Training to 50000 Youths in 3 Years under Rail Kaushal Vikas Yojana (RKVY). Apply Online from link below…
Click Here for Rail Kaushal Vikas Yojana 2023 रेलवे नि:शुल्क 50000 युवा प्रशिक्षण योजना
Ex Serviceman will be Recruited as Gangman near Railway Crossings all over Country. There will be Recruitment on 20719 Posts. Get Details of New Railway Recruitments 2023 from links given in Table below…….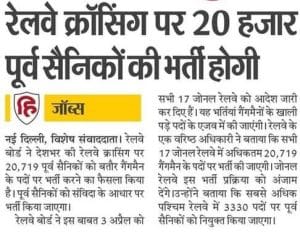 Central Government has given permission for Formation of NRA. National Recruitment Agency will organize Combined Exam for SSC, Railway Recruitment Board, IBPS. Based on CET Score Railway will complete Post wise Recruitment Process. Read full news from link below….
Click Here for NRA Common Eligibility Test 2023 CET Date for SSC Bank, Railway Exam
Indian Railway has released Notification for Recruitment for 1.30 Lac Posts. There will be recruitment for Various Ticket Collector, Clerk, Stenographer, Para Medical, Group D Level Posts under Notice RRB CEN 01/2019, CEN 02/2019, CEN 03/2019 & RRC 01/2019. There will be 1 Lakh Vacancies for group D & 30000 for other Posts. Download Notice below…
Indian Railway will make Recruitment for 2.30 Lac Posts in 2 Years. Recruitment will be done in two phases as :
1st Phase : Total 131428 Posts.
2nd Phase : Total 99000 Posts.
Reserved Category wise Recruitment will be done as :
OBC : 62485 Posts
SC : 34715 Posts
ST : 17357 Posts
Poor General Category : 23042 Posts
Indian Railways is India's national railway system. Operated by the Ministry of Railways. It is the fourth-largest railway network in the world by size. IR owns locomotive and coach-production facilities at several locations in India. Indian Railway is world's eighth-largest employer. Indian Railways divides its operations into zones, which are further sub-divided into divisions, each having a divisional headquarters. There are a total of 73 divisions.
Railway Zones : Indian Railway is divided in Zones. There are 17 Zones for which Railway made Recruitment :- Southern Zone (SR), Central Zone (CR), Western Zone (WR), Eastern Zone (ER), Northern Zone (NR), North Eastern Zone (NER), South Eastern Zone (SER), Northeast Frontier (NFR), South Central (SCR), Kolkata Metro (KMRCL), East Central (ECR), North Western (NWR), East Coast (ECoR), North Central (NCR), South East Central (SECR), South Western (SWR), West Central (WCR).
Indian Railway has given Responsibilities to RRB Ahmadabad, RRB Ajmer, RRB Allahabad, RRB Bangalore, RRB Bhopal, RRB Bhubaneswar, RRB Bilaspur, RRB Chandigarh, RRB Chennai, RRB Gorakhpur, RRB Guwahati, RRB Jammu Srinagar, RRB Kolkata, RRB Malda, RRB Mumbai,RRB Muzaffarpur, RRB Patna, RRB Ranchi, RRB Secunderabad, RRB Siliguri & RRB Thiruvananthapuram to make recruitment on behalf of Railway Zones.
Railway Zone wise Vacancies :- As per News Published in Amar Ujala News Paper, Northern Railway, North Eastern Railway & North Central Railway has provided details of Vacancies in Respective Zones. There are Total 65599 Vacancies. Most of the Vacancies are in Safety Category. All Over India, There are Total 2,20,137 Vacancies. Check Zone wise Vacancies below…
Northern Railway (NR) : 27,396 Vacancies
North Eastern Railway (NER) : 12,511 Vacancies
North Central Railway (NCR) : 15,692 Vacancies
Railway Staff are classified into gazetted (Groups A and B) and non-gazetted (Groups C and D) employees. Recruitment of Group A employees is carried out by the Union Public Service Commission by examination. Recruitment of Group B section and junior engineers and depot material superintendents is conducted by the Railway Recruitment Board. IR Group C and D employees are recruited by 21 railway recruitment boards and cells, which are controlled by the Railway Recruitment Control Board (RRCB). The training of all groups is shared among six centralized training institutes. IR recruits for lower-level positions through its RRB NTPC (Railway Recruitment Board Non-Technical) examination. Apart from this RRB invites Applications for Posts like Junior Engineer, Senior Section Engineer, Assistant Loco Pilot, Technician, Stenographer, Paramedical Posts, Ticket Examiner, NTPC Graduate, Commercial Clerk, Teaching Posts, Accounts Clerk.
Dear Readers, From this Article You can get Information of Latest Jobs in Railways & Upcoming Railway Jobs Notification in Year 2023. Candidates can get Full Details from the Links provided in Table below…
LATEST Railway Recruitment Notice 2023 RRB RRC Job Vacancies Apply LINK
| | | |
| --- | --- | --- |
| Name of Recruitment/ Exam | Online Application Last Date | Link to Apply/ Get Full Details |
| Southern Railway Cultural Qouta Vacancy | 31.12.2023 | CLICK HERE |
| South Eastern Railway Apprentice 1785 Vacancy | 28.12.2023 | CLICK HERE |
| North Eastern Railway RRC NER Recruitment 2023 | 24.12.2023 | CLICK HERE |
| North Central Railway Scouts & Guide Quota Vacancy | 24.12.2023 | CLICK HERE |
| RITES Apprentice Vacancy 2023 257 Posts | 20.12.2023 | CLICK HERE |
| CRIS Software Engineer Vacancy 2023 | 20.12.2023 | CLICK HERE |
| Western Railway Sports Quota 64 Vacancy | 19.12.2023 | CLICK HERE |
| RRC NCR Recruitment 2023 Apprentice 1697 Posts | 14.12.2023 | CLICK HERE |
| Konkan Railway Recruitment 2023 Apprentice 190 Posts | 10.12.2023 | CLICK HERE |
| East Central Railway Recruitment -1832 Posts | 09.12.2023 | CLICK HERE |
| NHSRCL Recruitment -Operator/ Driver Vacancy | 07.12.2023 | CLICK HERE |
| Rail Vikas Nigam Limited Vacancy | 05.12.2023 | CLICK HERE |
| Banaras Locomotive Works BLW Recruitment 2023 -374 Posts | 25.11.2023 | CLICK HERE |
| Mumbai Rail Vikas Recruitment 2023 MRVC Engineer Vacancy | 10.11.2023 | CLICK HERE |
Upcoming Railway Recruitment 2023 RRB RRC Jobs
Indian Railway will make Recruitment on 4500 Constable Female in Railway Protection Force (RPF). At Present, there are 9000 Vacant Posts, out of which recruitment on 50% Posts will be on Female Posts. Notification will release soon. Read full news from link below…
| | | |
| --- | --- | --- |
| Name of Recruitment/ Exam | Notification Release Date (Expected) | Link to Apply/ Get Full Details |
| RRB Loco Pilot Recruitment 2023 ALP Technician | Announce Soon | Get Full details |
| Railway JE Recruitment 2023 RRB Junior Engineer | Announce Soon | Get Full details |
| RPF Constable recruitment 2023 4500 Posts | Announce Soon | Get Full details |
| RPF Sub Inspector recruitment 2023 | Announce Soon | Get Full details |
| North Central Railway Recruitment 2023 RRC NCR –8732 Group D Posts | Announce Soon | Get Full Details |
| North Eastern Railway Recruitment 2023 RRC NER –14000 Group C & D | Announce Soon | Get Full Details |
Candidates need to have regular watch on our website to get Latest Updates of Upcoming Jobs in Railway & Latest Jobs too for Candidates. All Links of Online Application will be available here…
Get Information of All Latest Government Jobs – Central & State Govt Jobs in 2023
For Latest Railway Recruitment Notice 2023 Follow our website (www.govtexamalert.com). Bookmark this Page (Press CTRL+D). You can leave your queries at [email protected].