BSNL JAO Syllabus 2022 Download BSNL Junior Account Officer Syllabus 2022 DR JAO Exam Pattern Bharat Sanchar Nigam Limited BSNL JAO Exam Pattern Exam Tips Important Topics
BSNL JAO Syllabus 2022 Online Exam Pattern
Bharat Sanchar Nigam Ltd. (BSNL) has initiated Recruitment Process for Direct JAOs (Junior Accounts Officer) from open market/ external candidates through ONLINE COMPETITIVE EXAMINATIONS. This Recruitment Exercise has been started for 996 JAO Posts. For Aspirants who are preparing for this Exam, must have knowledge of correct exam pattern & Syllabus. After getting Correct Exam Pattern, Syllabus details, Complete Strategy for preparation can be made. This Exam is fully based on accountancy & its related subjects. All Details of BSNL JAO Online Exam Pattern & Syllabus is provided in this Article…..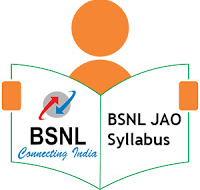 BSNL JAO Job Profile : The JAO (Junior Accounts Officer) is a Circle-based Cadre and the candidates would be selected against the vacancies of a particular Circle. (The candidates are required to serve in that particular Circle until they are promoted to All India Cadre). However, BSNL has the right to post any selected JAO (Junior Accounts Officer) to any of the Circles either temporarily or on permanent basis. The decision of BSNL in this regard will be final and binding. The service conditions, seniority etc. of selected candidates will be determined as per prevailing rules of the Company from time to time.
BSNL JAO Online Exam Pattern 2022 : Direct Recruitment of Junior Accounts Officers will be conducted on the following scheme of examination :-
Subject

Paper

Total Marks

Time Duration

General English and General Aptitude/ Awareness

General English

General Aptitude/ Awareness

100 Marks

50 Marks

03 Hours

Financial and
Commercial
Accounts

Financial Management/ Cost Accounting/ Tax and
Commercial Laws
300 Marks

03 Hours
In General Aptitude/ General Awareness Test, special attention will be paid to assess candidates' capacity for general Awareness.
Level of Exam will be of Post Graduate Level.
BSNL JAO Syllabus 2022 : BSNL DR JAO Syllabus will be as follows :-
BSNL JAO PAPER 1 SYLLABUS 2022
General English :- Comprehension of Given passages and Grammar, Usage and Vocabulary.
General Aptitude/ Awareness :- Current Events of National & International Importance; Indian Polity and Economy, General Mental Ability, Test of reasoning and Quantitative Aptitude.
BSNL JAO PAPER 2 SYLLABUS 2022
Financial Management/ Cost Accounting/ Tax and Commercial Laws :
Advanced Account :
Company Account Introduction; Shares and Distributors.
Company Accounts; Final Account.
Cash and Fund flow Statement.
Auditing :
Nature, Objective and Basic Principles of Auditing.
Techniques of auditing Physical Verification, Examination of Documents and Vouching,
Direct Conformation Analytical Review.
Planning and Audit, Audit Programmes, Working Papers, Audit Process.
Valuation of Internal Controls.
Various types of Audit.
Financial Management :
Goals of Financial management.
Key Activities of Financial Management.
Relationship of Finance to Accounting and Audit.
Organization of Finance Function.
Financial Statements :
Basic Concepts Underlying Accounting.
Balance Sheet.
profit and Loss Accounts.
Source and Usage of Final Statements.
Financial Topics Related to Balances Received and Profit and Loss Accounts.
Analyzing Financial Performance.
Financial Ratios
Applications of Financial Analysis.
Problems in Financial Statements and Analysis.
Break-even Analysis and leverages.
Financial Management in Public Sector Enterprises :
Capital Budgeting.
Long Term Financing.
Working Capital Management.
Memorandum of Understanding.
Financial Management & Control.
Bare Acts :
Company's Act 1956 (with amendments).
Contract Act.
Partnership Act.
Payment of Gratuity Act.
Consumer Protection Act.
For More Details, Updates Please Visit – http://www.externalbsnlexam.com/
For any Query/ Assistance leave a Comment in the Box below. You can also leave a message on our Facebook Page (www.facebook.com/jobdisha) OR Leave a mail to [email protected]