Indian Army Rally Schedule 2018 UP Army Bharti Dates Soldier Clerk Havildar
army rally schedule 2018 indian army recruitment rally schedule 2018 army rally up schedule 2018 download army bharti schedule 2018 army rally uttar pradesh soldier clerk posts up army bharti rally schedule lucknow varanasi allahabad army rally 2018 for soldier clerk havildar teacher vacancies latest army rally exam date 2018 updates
Army Rally Schedule 2018 Army Bharti in Uttar Pradesh
LATEST Army Rally UPDATE dated 28.11.2018 : More than 74000 Candidates has registered for Army Rally in Ayodhya (Faizabad). Rally will conduct from 02 to 17 December, 2018. Read news from Image below..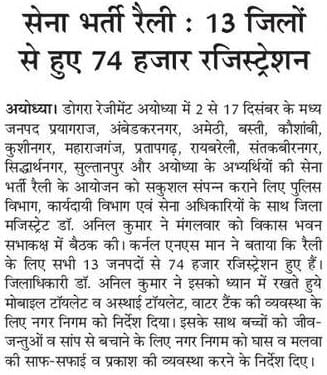 Allahabad & Bareilly Army Rally Bharti Schedule has been released Now. Recruitment Rally will conduct in December, 2018. Recruitment Rally for Mathura will start from 15 November, 2018. Check Detailed Rally Schedule below…
Online Registrations for UP Army Recruitment Rally 2018 for ALLAHABAD, AMBEDKAR NAGAR, BASTI, FAIZABAD, KAUSHAMBI, KUSHI NAGAR, MAHARAJGANJ, PRATAPGARH, RAE BARELI, SANT KABEER NAGAR, SIDDHARTH NAGAR, SULTANPUR, AMETHI, BAHRAICH, BALRAMPUR, BUDAUN, FARRUKHABAD, HARDOI, PILIBHIT, SHAHJAHANPUR, SHRAVASTI, LAKHIMPUR KHERI, SAMBHAL, BADAUN, LAKHIMPUR, SITAPUR, BAREILLY Districts has been started Now. Candidates can apply online up to 24 November, 2018. Check Army Rally Schedule & Apply Online from the links given below….
Indian Army conducts recruitment Rally on regular basis for All States.  Army offers brilliant career. Every year 30-35 lakh individuals appear for recruitment in Army, which offers role of a leader, opportunities full of diverse challenges, a distinctive career to serve the nation, handsome salary, adventure, sports, altruism, sacrifice and no end to this. Indian Army Recruitment Rally is for the Following Posts :-
Soldier (General Duty) (All Arms) (SGD)
Soldier (Technical) (Technical Arms, Artillery , Army Air Defence) (STT)
Soldier (Clerk/ Store Keeper Technical )(All Arms) (CLK)
Soldier (Nursing Assistant) (Army Medical Corps) (SNA)
Soldier (Tradesman) (All Arms) (TDN)
Soldier Tech Dresser (RVC) (STD)
Soldier Tech (Avn & Amn Examiner) (STA)
Religious Teacher (RGT)
Soldier (Nursing Assistant Veterinary) (Remount Veterinary Corps)
Havildar (Survey Automated Cartographer) (Engineers) (HAC)
Havildar (Education) (Army Education Corps) (HVN)
Junior Commissioned Officer (Religious Teacher) (All Arms)
Junior Commissioned Officer (Catering) (Army Service Corps)
Army Bharti New Selection Process :- Indian Army conducts Recruitment Rally state wise & District wise. From Last year Army has made some changes. No All Process is Online. Candidates has to appear first in Computer Based Common Entrance Exam (CEE), then candidates will call for Physical test & Medical Test. Some Important Decision take for Army Rally is as :
Computer Based Common Entrance Exam will conduct First.
Physical Test, Medical Examination & Document Verification will conduct for Written Exam qualified Candidates.
Aadhar Card is mandatory for Army Recruitment Rally Online Application Form.
From Now Onwards, Orphan Candidates can also take part in Army Recruitment Rally for Soldier/ Clerk Posts. Read Detailed Process from the Image below…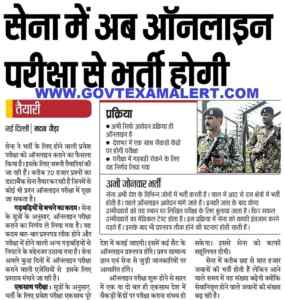 UP Army Recruitment Rally Schedule Uttar Pradesh :
Indian Army will conduct Recruitment Rally for various Districts in Uttar Pradesh. This Rally will conduct for Mathura, Hathras, Firozabad, Agra, Aligarh, Kasganj Sant Kabeer Nagar, Pratapgarh, Rae Bareli, Sultanpur, Siddharth Nagar, Kaushambi, Kushi Nagar, Maharajganj, Faizabad, Basti, Allahabad, Ambedkar Nagar, Amethi Districts. Check UP Army Rally Schedule 2018 from the Table below…….
District Name
Category Name
Venue Name
Online Application Date
Recruitment Rally Date
BAHRAICH, BALRAMPUR, BUDAUN, FARRUKHABAD, HARDOI, PILIBHIT, SHAHJAHANPUR, SHRAVASTI, LAKHIMPUR KHERI, SAMBHAL, BADAUN, LAKHIMPUR, SITAPUR, BAREILLY
SGD, STT, CLK, SNA, STD, STA, TDN, SPY
FATEHGARH
11.10.2018 to 24.11.2018 APPLY NOW
10.12.2018 to 20.12.2018
ALLAHABAD, AMBEDKAR NAGAR, BASTI, FAIZABAD, KAUSHAMBI, KUSHI NAGAR, MAHARAJGANJ, PRATAPGARH, RAE BARELI, SANT KABEER NAGAR, SIDDHARTH NAGAR, SULTANPUR, AMETHI
SGD, STT, CLK, SNA, STD, STA, TDN, SPY
FAIZABAD CANTT
03.10.2018 to 16.11.2018 APPLY NOW
02.12.2018 to 17.12.2018
AGRA, ALIGARH, FIROZABAD, HATHRAS, MATHURA, KASGANJ
SGD, STT, CLK, SNA, STD, STA, TDN, SPY
Eagle Ground, Near Veterinary College, Mathura Cantt
16.09.2018 to 30.10.2018 APPLY NOW
15.11.2018 to 27.11.2018
AZAMGARH, BALLIA, GHAZIPUR, MAU, DEORIA, GORAKHPUR
SGD, STT, CLK, SNA, STD, STA, TDN, RGT
Ranbankure Stadium , ARO Varanasi
22.08.2018 to 05.10.2018 APPLY NOW
21.10.2018 to 01.11.2018
AURAIYA, BANDA, BARABANKI, CHITRAKOOT, FATEHPUR, GONDA, HAMIRPUR, KANNAUJ, KANPUR DEHAT, KANPUR NAGAR, LUCKNOW, MAHOBA, UNNAO
SGD, STT, CLK, SNA, STD, STA, TDN
KANPUR CANTT
27.07.2018 to 09.09.2018
APPLY NOW
26.09.2018 to
09.10.2018
GHAZIABAD, SHAMLI, RAMPUR, BAGHPAT, GAUTAM BUDDHA NAGAR, MORADABAD
SGD, STT, CLK, SNA, STA, TDN
CPWD Field, Ghaziabad
02.03.2018 to 15.04.2018
APPLY NOW
01.05.2018 to
10.05.2018
Candidates can get Latest Updates regarding Army Recruitment Rally in Various District in Uttar Pradesh & Other States. You can also bookmark this Page for Latest Recruitment Rally Schedule, Latest Updates (PRESS CTRL+D to bookmark). For any Query/ Assistance leave a Comment in the Box below. You can also leave a message on our Facebook Page (www.facebook.com/jobdisha) OR Leave a mail to disha@govtexamalert.com
Click Here for Latest Army Recruitment Rally Updates, Latest Rally JCO/OR
For More Details Please Visit : http://joinindianarmy.nic.in