up army rally schedule 2020 2021 indian army recruitment rally calendar 2020 schedule army rally up date schedule 2020 download army bharti schedule army rally uttar pradesh soldier clerk posts up army bharti rally schedule lucknow varanasi allahabad army rally for soldier clerk havildar teacher vacancies latest army rally exam date 2020 updates
UP Army Rally Schedule 2020 Army Bharti Date in Uttar Pradesh, Rally Updates
LATEST UPDATE dated 15.10.2020 : Good News !! Combined Entrance Exam (CEE) for Army Recruitment Rally in Fatehpur for 13 Districts will conduct 01 November, 2020. Admit Cards will be available from 16 October, 2020. Keep in touch with us for latest updates…..
Army Rally will conduct at AMC Stadium Raebareilly Road Lucknow under Unit Headquarter Quota. This Rally will conduct from 16 to 27 November 2020. Ex Servicemen, On Duty Soldiers & Dependent of Late Soldiers can take part in it. Read full news from Image below…
Indian Army has released Calendar for Army Rally in Uttar Pradesh & Uttarakhand. There will be 6 Rallies for HQ RTG ZONE LUCKNOW in UP (Amethi, Bareilly, Meerut, Lucknow, Agra, Varanasi) & 2 Rallies in Uttarakhand (Lansdowne, Alomora & Pithoragarh) from 01 April 2020 to 15 Fabruary 2021. Get Details of UP Army Rally 2020 2021 from link below…..
Click Here for Indian Army Recruitment Rally Online Application 2020 Soldier/ Clerk Notification Download
Indian Army Administration has changed Exam Timings for Army Rally Exam. Now Written Exam for Army Rally will start from 09:00 AM. After Completing Race & Document Verification, Written Test will conduct. read full news from Image below…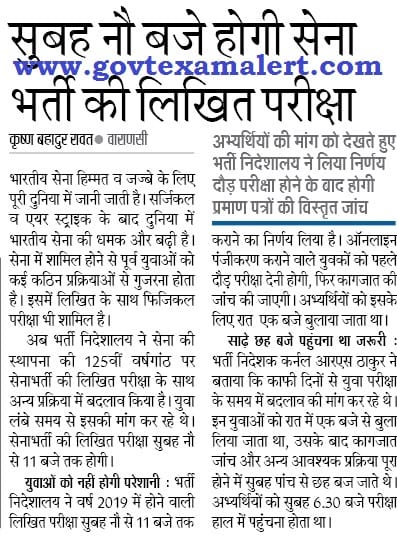 To make Army Recruitment Selection Process Transparent, Online Exam will conduct first. After Written Test, Physical test will conduct. Read full news from image below…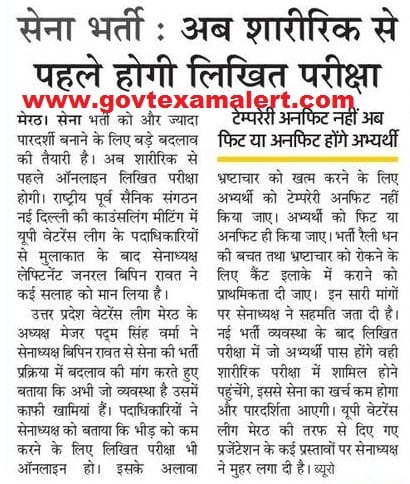 Indian Army conducts recruitment Rally on regular basis for All States.  Army offers brilliant career. Every year 30-35 lakh individuals appear for recruitment in Army, which offers role of a leader, opportunities full of diverse challenges, a distinctive career to serve the nation, handsome salary, adventure, sports, altruism, sacrifice and no end to this. Indian Army Recruitment Rally is for the Following Posts :-
Soldier (General Duty) (All Arms) (SGD)
Soldier (Technical) (Technical Arms, Artillery , Army Air Defence) (STT)
Soldier (Clerk/ Store Keeper Technical )(All Arms) (CLK)
Soldier (Nursing Assistant) (Army Medical Corps) (SNA)
Soldier (Tradesman) (All Arms) (TDN)
Soldier Tech Dresser (RVC) (STD)
Soldier Tech (Avn & Amn Examiner) (STA)
Religious Teacher (RGT)
Soldier (Nursing Assistant Veterinary) (Remount Veterinary Corps)
Havildar (Survey Automated Cartographer) (Engineers) (HAC)
Havildar (Education) (Army Education Corps) (HVN)
Junior Commissioned Officer (Religious Teacher) (All Arms)
Junior Commissioned Officer (Catering) (Army Service Corps)
Army Bharti New Selection Process :- Indian Army conducts Recruitment Rally state wise & District wise. From Last year Army has made some changes. No All Process is Online. Candidates has to appear first in Computer Based Common Entrance Exam (CEE), then candidates will call for Physical test & Medical Test. Some Important Decision take for Army Rally is as :
Computer Based Common Entrance Exam will conduct First.
Physical Test, Medical Examination & Document Verification will conduct for Written Exam qualified Candidates.
Aadhar Card is mandatory for Army Recruitment Rally Online Application Form.
From Now Onwards, Orphan Candidates can also take part in Army Recruitment Rally for Soldier/ Clerk Posts. Read Detailed Process from the Image below…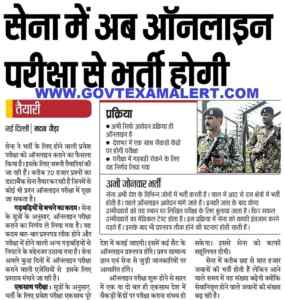 UP Army Recruitment Rally Schedule 2020 Army Rally Calendar District ARO wise
Indian Army will conduct Recruitment Rally for various Districts in Uttar Pradesh. Check UP Army Recruitment Schedule 2020 District wise from the Table below…….
District/ ARO Name
Online Application Date
Recruitment Rally Date/ Schedule
HOST ARO : Amethi
Announce Soon
01 to 20 May 2020 Postponed
HOST ARO : Meerut
Announce Soon
25 May to 15 June 2020 Postponed
HOST ARO : Bareilly
Announce Soon
16 September to 15 October, 2020
HOST ARO : Lucknow
Announce Soon
03 to 13 October, 2020
HOST ARO : Agra
Announce Soon
01 to 20 November 2020
HOST ARO : Varanasi
Announce Soon
15 November to 05 December 2020
HOST ARO : Agra

Agra, Mathura, Hathras,
Kasganj, Aligarh & Firozabad

Venue of Rally : Eagle Ground, Mathura Cantt,
Near Veterinary College-281001

03.01.2020 to 15.02.2020
Rally End Date : 30.09.2020
HOST RO : Lucknow

Auraiya, Banda, Barabanki,
Chitrakoot, Fatehpur, Gonda,
Hamirpur, Kannauj,
Kanpur Dehat, Kanpur Nagar,
Lucknow, Mahoba and Unnao

Venue of Rally : Fatehpur

05.12.2019 to 18.01.2020
02.02.2020 to
20.02.2020 (in February)
Download Indian Army Zone wise Rally Schedule for RTG Year 2020-2021 for various States/ Districts
Candidates can get Latest Updates regarding Army Recruitment Rally in Various District in Uttar Pradesh & Other States. You can also bookmark this Page for Latest Recruitment Rally Schedule, Latest Updates (PRESS CTRL+D to bookmark). For any Query/ Assistance leave a Comment in the Box below. You can also leave a message on our Facebook Page (www.facebook.com/jobdisha) OR Leave a mail to disha@govtexamalert.com
Click Here to Check Indian Army Open Rally Schedule 2020-State wise/ District wise : Available Now
Click Here for Latest Army Recruitment Rally 2020 Updates, Latest Rally JCO/OR
For More Details Please Visit : http://joinindianarmy.nic.in