up police constable exam tips 2023 up police constable exam preparation tips 2023 written exam Important Topics for UP Police constable exam subject wise tips upp constable study tips important tricks How to Prepare for Tips to Crack UPP Constable Exam UPPBPB UP PRBP Constable Tips
UP Police Constable Exam Tips 2023 Important Topics
LATEST UPDATE : Good News !! UP Police may conduct Constable Written Exam in Hybrid Mode. UP Police will make recruitment for 52699 Constable & 1007 Fireman Posts. UP Police Recruitment Board has invited Tenders for Constable Bharti 2023. Read full news of UPP Constable Bharti 2022 below……
Check UP Police 52699 Constable Recruitment 2023 Male Female Online Application Dates
Good News for UP Police Constable Exam Aspirants, Important Exam Tips & Topics for UPP Written Exam is Available…………….Read this Article & Follow the required Steps to get Good Marks in UP Police Constable Exam.
Uttar Pradesh Police will make Recruitment for Constable to fill all the Vacant Positions. Candidates are very enthusiastic regarding these Vacancies because amount of Vacancies are huge. More Than 23 Lac Candidates has applied for these Constable Posts. As Per News, UP Police Constable Written Test is scheduled to be conducted in Year 2023.
Candidates who filled UP Police Constable Online Form, must be searching for Exam Preparation Tips. Selection Process for UP Police Constable has been changed now. Selection will be based on Merit of Written Exam so candidates who get good marks in Written Test will have fare chances of Selection. Candidates has to prepare well for written exam. Candidates can get UP Police Exam Tips, Study Tips & Important Topics for Written Test.
UP Police Constable Written Exam Pattern 2023:
UPPRBB will conduct Constable Exam under Pen Paper Mode. UP Police Exam will conduct on OMR Sheet.
Written Exam will be of Objective Multiple Choice Type. There will be 150 Questions in Exam comprises of 300 Marks.
There will be Negative Marking of 0.25 Marks in the Exam.
There will be questions from General Knowledge, General Hindi, Numerical & Mental Ability, Mental Aptitude, Reasoning Subjects.
There is no criteria for Minimum Qualifying Marks in the exam.
UP Police Constable Exam Tips 2023-Subject wise
General Hindi Tips :
General Hindi is very Important Subject to Get Good Marks in Exam. This Section may consists of 75 Marks (25 Questions)
Candidates need to prepare well for this Subject. Focus on Hindi Grammer More.
This Subject require remember many things so find time to remember Antonym, Synonym, One Word Substitution, Idioms & Phrases.
Practice Modal Papers to master the things.
Make List of your Strong & weak Topics & Prepare according to that.
Important Topics : अलंकार, समास, विलोम, पर्यायवाची, रस, संधियां, तद्भव तत्सम, लोकोक्तियाँ, मुहावरे, वाक्यांशों के लिए एक शब्द, अनेकार्थी शब्द वाक्य संशोधन -लिंग, वचन, कारक, काल, वर्तनी, त्रुटि से सम्बंधित
General Knowledge Tips:
This Section required lots of study & regular revision. This Section may consists of 75 Marks (25 Questions).
This Section will play important Role, candidates who have good command on GK, will have an edge on other candidates.
Candidates has to prepare this subject as per their strength. Questions will be from History, Geography, Politics, Economics, Current Affairs, General Knowledge of UP.
Divide your Strong & weak Part. In Schedule give daily 2 hour for this Subject.
Read Newspaper daily & make notes of Important Points. There can be more questions related to Uttar Pradesh so prepare accordingly.
Important Topics : History, Geography, Economics, Indian Constitution, Sports, Literature, Science, Literature, Awards, Books and Authors, Personalities, Places of Importance, Days and Dates, Appointments, Current Events, Sports News, National & International Events, General Knowledge of Uttar Pradesh.
Mental Aptitude & Reasoning Ability Tips : Reasoning is the Most Important Section to Get Good Marks in Banking Exam. One who have good command & speed in Reasoning will always be One Step Ahead from other candidates. Reasoning Section may comprise of 75 Marks.
Only Candidates know about their Strong & Weak topics of Reasoning Subject. So Attempt the Section According That.
This Sections has Questions from Mental Aptitude, I.Q., Reasoning Ability.
Candidates need to focus more in IQ & Reasoning Ability Section.
Try to Solve this Section quickly so that you can save time for Numerical Ability Test.
Choose Your Good attempts in Exam, Seeing the Difficulty Level of Puzzles & Other Reasoning Questions.
Practice more & more questions to get command over Puzzles. Try Different Type & Level of questions.
Important Topics : Analogy, Number Series, Coding Decoding, Direction Sense Test, Statement & Conclusion, Venn Diagram, Mathematical Ability, Problem Solving, Analysis Judgment, Decision Making, Relationship, Blood Relation, Arithmetical Reasoning, Non Verbal Reasoning.
Numerical & Mental Ability Tips Quantitative Aptitude Section is also scoring & Deciding Factor in Exams. Candidates who used good Short Tricks & Know Formula, have an edge over other Aspirants. This section can be comprise of 75 Marks.
In Quantitative Aptitude Section, First Check the Level of Question Paper then make your strategy.
Attempt Simplification, Number Series & Data Interpretation Section First. then go for easy questions like Ratio Proportion, Percentage, Average, Mensuration.
To make good speed in Math Section, Candidates need to have learn Square Root, Square, Cube & Cube Root.
Candidates need to make a List of All Important Formula & Tricks.
Basics is most Important thing, First practice questions with Concepts & then apply Tricks you learn.
Practice More Questions to have command over all topics in quant. Maintain Accuracy in Exam.
Important Topics : Number System, Simplification, Decimal Fraction, Ratio & Proportion, Percentage, Profit & Loss, SI & CI, Average, Time & Work, Mensuration, Logical Diagrams, Symbol Interpretation, Perception Test, Number & Letter Series, Forcefullness of Arguments, Determining implied meanings.
Important Tips to Follow During Preparation :
There will be Negative Marking in Exam, so focus on accuracy. Accuracy will not come in one day. Practice more & more questions for accuracy.
Practice Modal Papers & UP Police Constable Previous Year Papers.
Make your strategy to solve Question Paper Subject wise as per your strength & weakness.
Better to start the Question Paper with Order like Hindi, General Knowledge, Reasoning, Numerical Aptitude.
Don't waste too much time on one question. Mark that question & try to solve again if you have time.
As Exam is offline, so you can have a look of All questions. Try to solve Easy Questions First.
Give Mock Test on Latest Exam Pattern. Revise the Topics in which you are weak.
Make List of Important Formula, Tricks so that you can do question fast.
Don't make guess in General Knowledge section. If you know less answers in GK section then don't panic. Try to cover this section from good performance in other sections.
Check the Answer twice before filling in OMR Sheet. Check the Details filled in OMR Sheet. Try to avoid whitener, blade to correct the Answer. Be Confident, you will surely achieve your goal.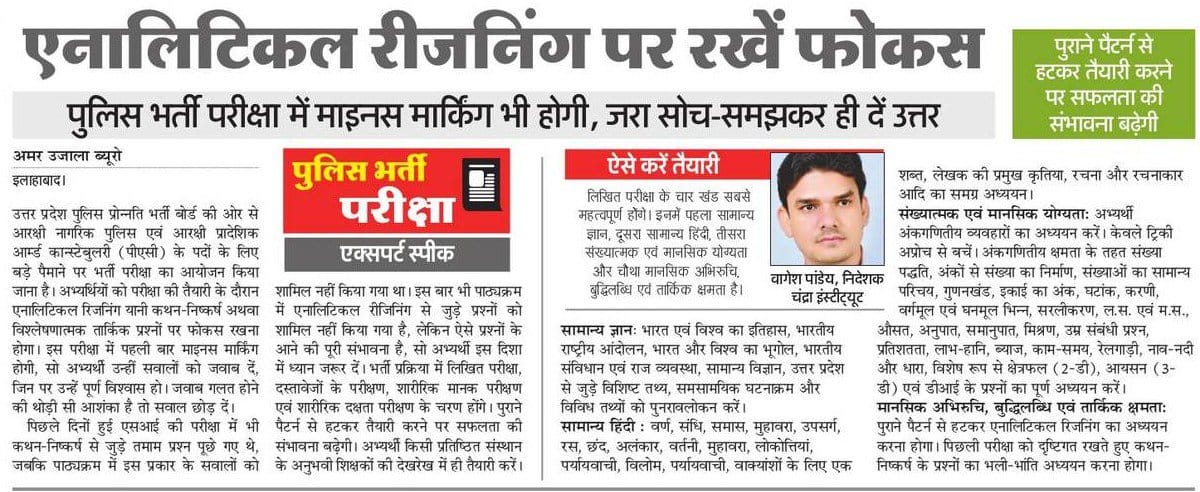 Candidates need to Visit Regularly website of UP Police regarding any change in UP Police Constable Exam Syllabus 2023. You can Bookmark this page (CTRL+D) for Latest Updates. Dear UP Police Constable Aspirants You can clear your Doubts regarding Exam Pattern, Syllabus through Comment Box given below. You can also send us E Mail ([email protected]). We will happy to help you.
Download UP Police Constable Syllabus 2023 New Written Exam Pattern
For More Details Please Visit : www.uppbpb.gov.in