UP TGT PGT Admit Card 2023 Exam Date/ Schedule
LATEST UPDATE : UP TGT PGT Exam Date will announce after formation of New Education Commission. Total 13.19 Lakh Candidates has applied for TGT PGT Exam. UPSESSB will conduct TGT PGT Exam in 75 Districts. As per news, UPSESSB has asked Exam Centre Details from All DIOS. Keep in touch with us for latest updates….
wrt Advt. No. 01/2022 & 02/2022 UPSESSB has invited Online Applications for TGT & PGT Teacher Posts under Advt. No. 01/2022 & 02/2022. It is well known that Notification for UP Trained Graduate Teacher & Post Graduate Teacher Recruitment was out in June, 2022. Under UP TGT PGT 2022 Notification, There was 3539 Vacancies was announced for TGT Teacher (8.69 Lakh Candidates applied)& 624 Vacancies was announced for PGT Teacher (4.50 Lakh Candidates applied).
Click Here to Download Detailed UP TGT PGT Exam Syllabus 2023 All Subjects in .pdf Format
As Per UPSESSB TGT PGT Selection Process, Written Exam will conduct first to select suitable candidate. There are so much speculations regarding Exam Date. As New Government has stopped all recruitment process of Uttar Pradesh Secondary Education Service Selection Board (UPSESSB), so nothing can be said regarding UP TGT PGT Exam Date. UP TGT PGT Exam will conduct in Year 2023.
UP TGT Exam Date 2023 → Announce Later
UP PGT Exam Date 2023 → Announce Later
UP TGT Biology Interview Dates 2023 : Announce Later
Candidates will get Admit Card before 15 days prior of Examination by post to the address written by the candidate in Application Form. if any of the candidate does not get his/her Admit Card before 15 days of examination Date, then he/she may download duplicate admit card from UPSESSB website OR he/ she can collect their respective Admit cards from upsessb Office.
UP TGT PGT Selection Procedure : Selection for the post of TGT and PGT will be based on Written Test, Special Qualification and Interview test.Marks of following stages will be as
Written Examination- 85% marks
Interview – 10% Marks
Special Qualification- 05% Marks
NOTE : There will be separate Exam for each subject on given dates up tgt pgt admit card 2022. Based on Merit of Written Exam, Candidates will call for Interview Process. The written test may conduct in : Agra, Allahabad, Kanpur, Gorakhpur, Jhansi, Muradabad, Bareilly, Meerut, Lucknow, Varanasi and Faizabad.
TGT Subjects : Hindi, Sanskrit, Urdu, English, Science, Biology, Mathematics, Home Science, Social Science, Art, Music, Commerce, Agriculture, Physical Education, Weaving, Sewing.
PGT Subjects : Physics, Chemistry, English, Hindi, Sanskrit, Biology, Commerce, Mathematics, History, Civics, Economics, Education, Psychology, Agriculture, Geography, Sociology, Art, Urdu, Botany, Physical Education, Music, Military Science, Mental Ability, Home Science, Pali.
UP Government has decided to scrapped Interviews for TGT Posts. Now Selection for TGT Posts will be based on Merit of Written Exam. Read full news from Image below…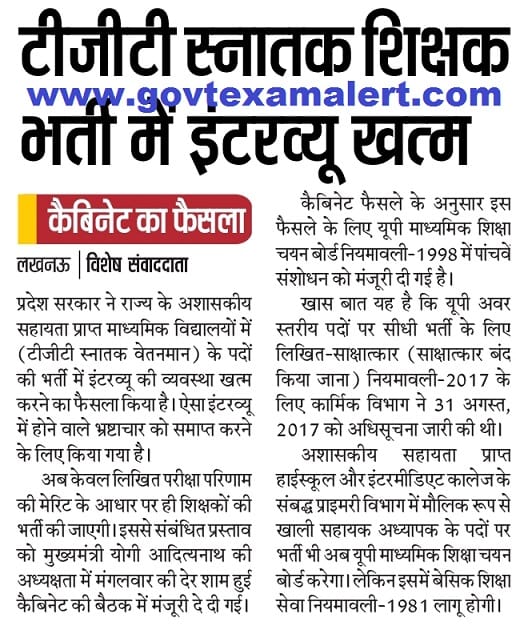 Aspirants will be able to get UP TGT PGT Teacher 2023 Exam Latest Updates from our website. Bookmark this Page (CTRL+D) to get Current Exam Updates of up tgt pgt admit card 2023. For any Query/ Assistance for up tgt pgt admit card leave a Comment in the Box below. You can also leave a message on our Facebook Page (www.facebook.com/jobdisha) OR Leave a mail to [email protected]
UP TGT PGT 2021 Important Notices & Links – INTERVIEWS
Important Notice || Interview Schedule (08.01.2022)
Download TGT Bio Interview Notice !! Download Candidate wise TGT Biology Interview Schedule 2021
Important Notice & Interview Schedule (21.10.2021 to 30.10.2021)
PGT 2021 Interview Schedule – Subject wise
Civics || Geography || Sociology || Economics || History || Hindi || Agriculture || Education || Physical Education || Commerce || Music Vocal
Important Notice & Interview Schedule (05.10.2021 to 20.10.2021)
PGT 2021 Interview Schedule – Subject wise
Chemistry || Physics || Biology || Maths || English || Psychology || Sanskrit || Art || Logic || Military Science || Home Science || Music Instrumental
UP TGT PGT 2021 Important Notices & Links
Click Here to Download UP PGT Written Exam Admit Card 2021 !! Download NOTICE
Click Here to Download UP TGT Written Exam Admit Card 2021 !! Download NOTICE
Click Here to Download UP TGT 2016 Biology Written Exam Admit Card 2021 !! Download NOTICE
Download Important Notice regarding UP TGT PGT Exam Date 2021 for Advt 01/2021 & 02/2021
Download Important Notice regarding UP TGT 2016 Biology Exam Date 2021 for Advt 01/2016
UPSESSB TGT  PGT Interview Schedule 2021/ Date & Roll No. wise List for Interview
UPSESSB will conduct TGT Social Science Interviews from 28 June to 02 July 2021. Download Interview Date Notice & Candidate's List from link below…
Download Interview Notice || Candidate's List for Interview
Important Notice & Interview Schedule (16.03.2021 to 13.04.2021) ||  TGT Social Science
Important Notice & Interview Schedule (06.11.2020 to 16.12.2020) ||  TGT Hindi ||  PGT Hindi
For More Information Please Visit – http://upsessb.org/