UP Khaadi Gram Udyog Board Recruitment 2023 685 posts UPKVIB Recruitment 2023 for Jila Gram Udyog Adhikhari District Village Industries Officer Technical Assistant Online Application
UPKVIB Jila Gram Udyog Adhikhari Recruitment 2023 Online Application Form
LATEST UPDATE dated 09.09.2023 : Good News !! Khadi & Village Industries Commission (KVIC) has invited application for filling up of 12 posts of Assistant Director-I in level 09 (as per 7th CPC) reserved for persons belonging to Other Backward Class (OBC) category under direct recruitment. Last Date to apply online is 30-09-2023. Check Official Notice below…..
Download KVIC New Vacancy Notification 2023 || Apply Online for KVIC Vacancy
There will be big recruitment in Khadi Gramudyog Department. UP Chief Minister has order to provide job opportunity to 1.5 Lakh people from Khadi Gram Udyog. Read full news from Image below….

UP Khaadi Gram Udyog Board is going to make Recruitment on various 685 posts. Recruitment Process will start soon after reorganization of Department. Get Full Updates of UPKVIB Recruitment 2023 from the Article & Image below………….
Uttar Pradesh Khadi & Village Industries Board was constituted as advisory body under Uttar Pradesh Khadi Village Industry Act 10, 1960.Thereafter, above act was modified by Khadi Village Industry Board act number 64, 1966 which gave the Board the authority to implement the schemes of Khadi and Village industry in the state. Thus, Khadi and Village Industry Board were reorganized as an autonomous institution. In 1967, all schemes of Khadi and Village industry were transferred from Directorate of Industry to Board. Before this, the schemes in 1st and 2nd five year plan were implemented under Directorate of Industry.
UPKVIB is reorganized to provide Job Opportunities in Rural Areas under Pandit Deendayal Graamodyog Rojgar Yojana. After Long Time Recruitment will be done in this Board. Details of Vacancies are as Follows :
Details of Vacancies : Total 685 Posts (Expected). Recruitment will be on Following Newly generated Posts.
Jila Gram Udyog Adhikhari (District Village Industries Officer)
Law Officer
Technical Assistant (Computer)
Regional Development Officer
Assistant Programmer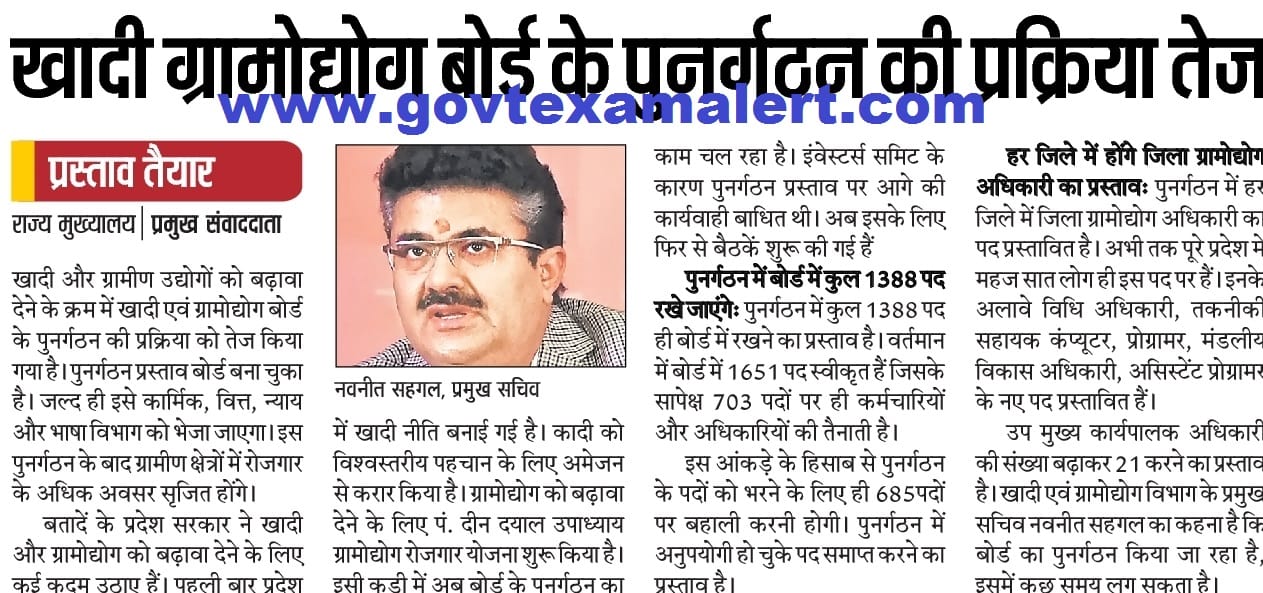 It should be noted that After Reorganization, there are Total 1388 Posts. Only 703 Vacancies are filled in UPKVIB. Thus Recruitment will be done for 685 Posts. 266 useless posts are scrapped. Recruitment will be done on only Newly Formed Vacancies.
Application Process : UPKVIB is is phase of reoragnization. After completion of Board, Proposal will be sent to Cabinet. After getting approval from Cabinet, Recruitment Process will start. Candidates need to have regular watch on official portal for recruitment updates.
UPKVIB DVIO Exam Aspirants need to have regular watch on Official Website regarding New Recruitment. You can Bookmark this Page (CTRL+D) to get Latest Updates.
For More Details Please Click Here
You can leave your query regarding UPKVIB Recruitment 2023 in the Comment Box. We will try to be responsive. Leave an email at [email protected] for Assistance.