Army School Admission Form 2019 Sainik School Class 6th 9th Apply Online
Amry School Admission Form 2019 Chandrapur, Mainpuri and Jhansi All India Sainik Schools Entrance Exam 2019 Online Application Form class 6th 9th Exam Schedule Sainik School Entrance Examination 2019-2020 Session Army School Admission 2019 Apply Online
Army School Admission Form 2019 Sainik School

Chandrapur, Mainpuri and Jhansi

Apply Online
LATEST UPDATE dated 06.05.2019 : Sainik School Kalibangan has invited applications for Admission in Class 4th to 8th, 9th & 11th. Students can submit form till 17 May, 2019. Check Notice & Apply Online from link below…
Click Here to Apply Online for Sainik School Kalibangan Admission in Class 4th to 11th
Online Applications for Admission in Sainik School Chandrapur, Mainpuri and Jhansi has started from 18 March, 2019. Entrance Exam will conduct on 21 April, 2019. Download Short Notice from link below…Applications for Army School, Dehradoon has invited applications for Admission in Class 4th to 9th. Entrance Exam will conduct on 01 & 02 June, 2019. Students can submit form till 31 March, 2019. Read news below…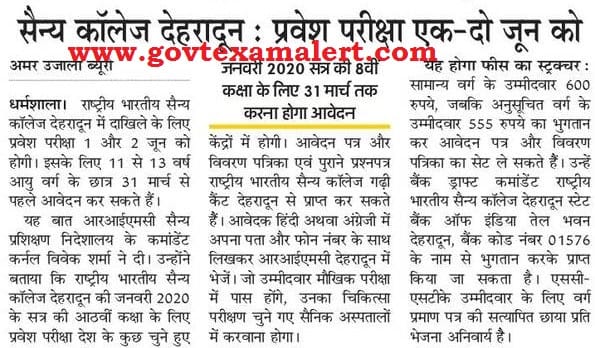 Sainik Schools Society will conduct Entrance Exam for Admission in Class 6th & 9th in Sainik Schools. The Entrance Examination will be held for admission to class VI & IX. The school will make its own arrangements for the conduct of the Entrance Examination. The responsibility for conduct of the examination in respect of the following States and the Union Territories where Sainik Schools are not established will be that of the schools indicated against each:-
(a) Delhi Sainik School, Kunjpura
(b) Chandigarh Sainik School, Kapurthala
(c) Tripura, Sainik School, Imphal
(d) Lakshadweep & Mahe Sainik School, Kazhakootam
(e) Puducherry & Karaikal Sainik School, Amaravathinagar
(f) Goa Sainik School, Satara
(g) Diu & Daman, Dadra & Nagar Sainik School, Balachadi Haveli
(h) Meghalaya & Sikkim Sainik School, Goalpara
(i) Andaman & Nicobar Island Sainik School, Purulia
(j) Yanam & Telangana Sainik School, Korukonda
(k) Uttar Pradesh Sainik School, Ghorakhal, Uttarakhand
Details of Age Limit, Application Fee, Important Date/ Schedule & How to Apply is given below….
Name of Exam : All India Sainik Schools Entrance Exam (AISSEE) for Admission in Class 6th & 9th in various Sainik Schools across India
Age Limit : Boys who are between the age of 10 to 12 years and 13 to 15 years respectively on 31st March of the year in which admission is sought are eligible to take the Entrance Examination.
Qualification Required : For admission to Class IX, the boys should be studying in Class VIII in a recognized school. Admission will be made strictly in order of merit only in classes VI and IX.
Application Fee : The Registration charge will be included in the selling price of the prospectus-cum application forms at the following rates:-
a) General and Defence Category : Rs.400/-
b) SC/ST : Rs.250/-
Important Dates : The Programme for the entrance examination is given below:-
Date of issuing Advertisment  :13 March, 2019
Dates of Online Applications : 18 to 29 March, 2019
Date of Entrance Exam : 21 April, 2019
Download of Admit Card – 4th April 2019 Onwards
Declaration of Result – 30th April 2019
How to Apply : Interested & Eligible Students can apply Online from Official Website. All Details of Online Application, Exam Schedule is available on Official Website (http://sainikschooladmission.in). Students can apply till 29 March, 2019. Important Links are given below.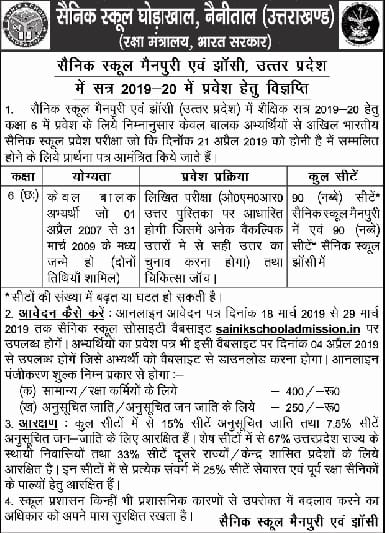 LAST DATE : 29/03/2019
Download Information Brochure for AISSEE 2019 Exam
Click Here to Apply Online : Start from 18 March, 2019
For More Information Click Here