upsssc assistant research officer syllabus 2021 2022 download check upsssc assistant statistical officer syllabus 2022 written exam pattern upsssc aso aro exam syllabus 2022 subject wise aro selection process
UPSSSC Assistant Research Officer Syllabus 2022 Assistant Statistical Officer (ASO ARO) Exam Pattern
LATEST UPDATE : UPSSSC has uploaded Admit Cards Assistant Research Officer/ ASO Written Exam. Exam will conduct on 22 May 2022. Download ASO ARO Exam Call Letter from link given below…..
Check UPSSSC Assistant Research Officer Admit Card 2021 2022 ASO ARO New Exam Date
Advt. No. 07-EXAM/2019 Uttar Pradesh Subordinate Service Selection Commission (UPSSSC) has announced 904 Posts for Assistant Statistical Officer & Assistant Research Officer in various Department in year 2019. UPSSSC has announced these vacancies under Assistant Statistical Officer & Assistant Research Officer (Statistics) Direct Recruitment Examination 2019. Candidates who had applied for these posts, looking for Written Exam Pattern & Syllabus for these ASO ARO Posts. In this Article We will provide you all Important Information regarding upsssc assistant research officer syllabus 2022 & Detailed Exam Pattern. UPSSSC has uploaded Official Syllabus later for these posts, we are providing you official syllabus for this exam.
UPSSSC ASO ARO Selection Process 2022 : Selection for ASO ARO Posts will purely based on Merit of Written Exam. After Written Exam, Document Verification will be conducted for successful candidates. As Interviews has been scrapped from Group B, C Posts so there can be no Interview this time. So Written Exam is main to get this Job in Uttar Pradesh for ASO & ARO Statistics
UPSSSC Assistant Research Officer/ Statistical Officer Exam Pattern 2022: Written Test comprises of Following Points :-
| | | | | |
| --- | --- | --- | --- | --- |
| | Subjects | No. of Questions | No. of Marks | Compulsory/ optional |
| Part 1 | General Hindi | 30 | 30 | Compulsory |
| | General Studies | 30 | 30 | |
| | Techniques of Statistical Analysis | 30 | 30 | |
| Part 2 | Commerce | 30 | 30 | Optional (based on Subject in PG Degree |
| | Economics | 30 | 30 | |
| | Mathematics | 30 | 30 | |
| | Statistics/ Mathematical Statistics | 30 | 30 | |
| TOTAL | | 120 | 120 | |
Written Exam will consists of Objective Multiple Choice Type Questions.
Written Exam can be conducted under Offline Mode.
There can be 120 Questions in Exam comprises of 120 Marks.
Time Duration for Written Test is 02 Hours (120 Minutes).
There will be Negative Marking of 1/4 Marks in UP ASO ARO Exam 2019.
UPSSSC Assistant Research Officer/ Statistical Officer Syllabus 2022:
General Hindi :
उक्त भाग में अभ्यर्थियों से हिंदी भाषा के ज्ञान, समझ तथा लेखन योग्यता संबंधी प्रश्न पूछे जाएंगे। यह भाग उत्तर प्रदेश माध्यमिक शिक्षा परिषद की हाई स्कूल परीक्षा अथवा समकक्ष परीक्षा के स्तर का होगा।
अलंकार, रस, समास, पर्यायवाची, विलोम, तत्सम एवं तदभव, सन्धियां, वाक्यांशों के लिए शब्द निर्माण, लोकोक्तियाँ एवं मुहावरे, वाक्य संशोधन – लिंग, वचन, कारक, वर्तनी, त्रुटि से सम्बंधित अनेकार्थी शब्द।
Current events of national and international importance :- On Current Events of National and International importance, candidates will be expected to have knowledge about them.
History of India and Indian National Movement :- In History emphasis should be on broad understanding social, economic and political aspects of Indian history. In the Indian National Movement, the candidates are expected to have synoptic view of nature and character of the freedom movement, growth of nationalism and attainment of Independence.
Indian and world Geography – Physical, Social, Economic geography of India and the World:- In World Geography only general understanding of the subject will be expected. Questions on the Geography of India will relate to Physical, Social &Economic Geography of India.
Indian Polity and Governance – Constitution, Political System, Panchayati Raj, Public Policy, Rights Issues, etc:- In Indian Polity, Economic and Culture, questions will test knowledge of country's political system including Panchayati Raj and Community Development, broad features of Economic policy in India and Indian Culture.
Economic and Social Development – Sustainable Development, Poverty, Inclusion, Demographics, Social Sector initiatives, etc:- The candidates will be tested with respect to problems and relationship between Population, Enviornment and Urbanisation. General issues on Environmental ecology, Bio-diversity and Climate Change – that do not require subject specialization. General awareness of the subject is expected from candidates.
Techniques of Statistical Analysis :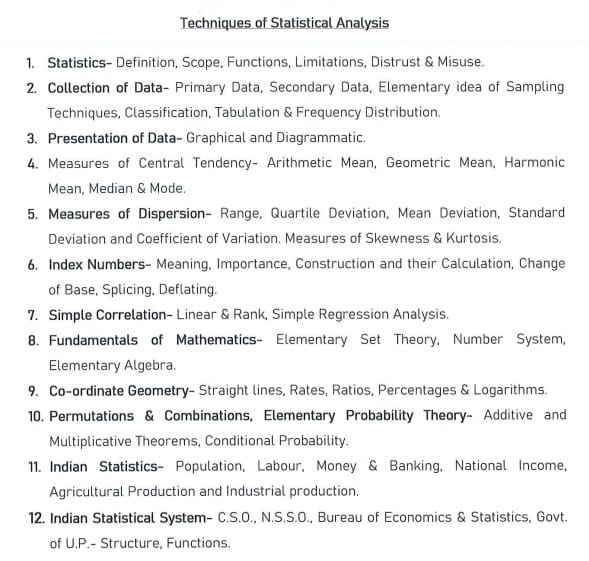 Download Official Syllabus for UPSSSC Assistant Statistical Officer/ Research Officer for Commerce/ Economics/ Mathematics/ Statistics/ or Mathematical Statistics
Govt Job Aspirants need to have regular watch on Official UPSSSC Website regarding New upsssc assistant research officer syllabus 2021. You can Bookmark this Page (CTRL+D) to get Latest Updates. We will provide you all tit & bit of ASO ARO recruitment 2022 So Keep Visiting Government Exam Alert. You can leave your query regarding upsssc assistant statistical officer syllabus 2019 in the Comment Box. We will try to be responsive. Leave an email at [email protected] for Assistance.
For More Details Please Click Here