indian coast guard yantrik result 2019 icg yantrik result 2019 check coast guard yantrik cut off marks merit list 2019 for 01/2020 batch diploma 10th level batch result date final provisional all india select list
Indian Coast Guard Yantrik Result 2019 ICG 01/2020 Batch Cut Off Marks Merit List
LATEST UPDATE : INDIAN COAST GUARD HAS UPLOADED LIST OF FINAL MEDICAL EXAMINATION AT INS CHILKA – YANTRIK 01/2020 BATCH. CHECK RESULT FROM LINK BELOW…
CHECK LIST OF FINAL MEDICAL EXAMINATION AT INS CHILKA – YANTRIK 01/2020 BATCH
Yantrik Diploma Holders & 10th Pass Entry 01/2020 Batch Indian Coast Guard has invited Online Application For Yantrik Diploma Entry. Applications were invited for recruitment to the post of Yantrik in the Indian Coast Guard, an Armed Force of the Union. Candidates with Diploma in Electrical/ Mechanical/ Electronics and Telecommunication (Radio/Power) Engineering were eligible to apply All Important Information regarding indian coast guard yantrik result 2019 for 01/2020 Batch Result, Cut Off Marks/ Merit List is provided in this Article…
Indian Coast Guard has conducted yantrik 01/2020 Batch Exam in September, 2019. The written test was of objective type. The question paper contained questions from their respective branch (Mechanical/ Electrical/ Electronics & Telecommunication) and will also include some questions of general knowledge, reasoning, aptitude & English. Coast Guard will announce Result for Yantrik Diploma Entry & upload List of Successful candidates on its official website. Coast Guard will announce result for each zone. Candidates who qualified in Computer Based Test will be called for Next Stage of recruitment i.e Physical Fitness Test. Results of the online examination will be announced tentatively after 30 days. Thus Result may announce in October, 2019.
Indian Coast Guard Yantrik Result Date 2019 01/2020 Batch : October/ November, 2019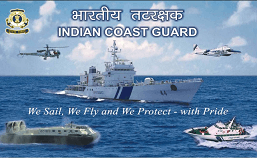 ICG Yantrik Selection Procedure : Selection of candidates is based on the order of merit depending on their performance in Written Test, Physical Fitness Test (PFT) and fitness in the Medical Examination. Those who qualify written examination will undergo Physical Fitness Test (PFT) and the testing procedure will take about 2 days. Physically Challenged candidates are not eligible to apply for this examination.
After Result Process :
Based on the performance in the written examination, candidates will be shortlisted for initial recruitment medical examination (Preliminary) in a ratio as may be decided by the Indian Coast Guard.
The select list will be prepared from the candidates who qualify in all the tests depending upon the available vacancies.
The All India select list of candidates will be displayed in the Indian Coast Guard Website www.joinindiancoastguard.gov.in in the month of Jan 2020.
Mere declaration of fit in initial medical examination does not indicate selection of the candidate for the final medical at INS Chilka.
Physical Fitness Test (PFT) : PFT will be conducted for all those who qualify the written tests. Candidates undergoing PFT will do so at their own risk. All candidates are advised to be in possession of sport rig (Shoe, T-shirt, Trouser etc). The PFT consists of:-
(i) 1.6 Km run to be completed in 7 minutes.
(ii) 20 Squat ups (Uthak Baithak).
(iii) 10 Push up.
Medical Standards : Selection of candidates is based on the order of merit depending on their performance in Written Test, Physical Fitness Test (PFT) and fitness in the Medical Examination. Medical examination will be conducted by authorised Military Doctors as per medical standard prescribed in current regulations applicable to Enrolled Personnel on entry. Criteria is as follows :
Height : Minimum height 157 cms. Reduction in height for candidates from hilly areas and tribal areas will be in accordance with the Central Govt. orders.
Chest : Should be well proportioned. Minimum expansion 5 cms.
Weight : Proportionate to height and age + 10 percentage acceptable.
Hearing : Normal. Candidates are advised to get their ears cleaned for wax and tartar removed from
teeth prior to examination.
Visual Standard : 6/6 (Better Eye) and 6/9 (Worse Eye). (Candidates using glasses are not eligible).
Tattoo : Permanent body tattoos are not permitted on any part of the body. However, certain concessions are permitted to candidates belonging to tribal areas communities as declared by the Govt. of India. For other candidates, permanent body tattoos are only permitted on inner face of forearms i.e. from inside of elbow to the wrist and on the reverse side of palm/back (dorsal) side of hand. Details in this regard are available on the Indian Coast Guard Recruitment website www.joinindiancoastguard.gov.in
Final Enrollment Medical Examination : Initial Medical Examination for recruitment will be considered only "Provisionally fit subject to fitness in the final medical examination." Final Medical Examination of all selected candidates will be done at INS Chilka. Candidates, who are NOT found medically fit in the final medical examination at INS Chilka, will NOT be enrolled for training. "An Appeal" is permitted for medically unfit candidates after the final enrolment medical examination at INS Chilka and will be given an opportunity to appeal against the findings if they so desire at INHS Kalyani, Visakhapatnam within a maximum period of 12 days or as decided by INS Chilka.
Training : The basic training will commence in February 2020 at INS Chilka followed by sea training and professional training in the allotted trade. Branch/trade will be allocated as per the requirement of service and performance during basic training. Naviks are liable to be discharged is UNSUITABLE due to unsatisfactory performance at any time during the training.
The candidate"s selection pertaining to a particular batch is valid for that batch only. Qualified candidates whose names do not appear in the merit list cannot claim admission for the next batch. These candidates will have to undergo the selection procedure afresh, provided they meet the eligibility criteria for the fresh batch.
For More Details Click Here >>>> https://www.joinindiancoastguard.gov.in/
Candidates can leave their Comments/ Queries related to coast guard yantrik result 2019. We will try to solve your query soon.