UP Board Syllabus 2020 10th 12th/ Intermediate NCERT Pattern -Subject wise
up board syllabus 2020 latest cbse based pattern up board 12th new pattern 2020 high school intermediate board exams up board new cbse syllabus latest news updates UP Board ncert Pattern Book List of 13 Subjects up board new syllabus 2018 books .pdf file up board new syllabus model papers subject wise
UP Board Syllabus 2020 New NCERT Pattern -Subject wise
LATEST UPDATE dated 07.06.2019 : Good News !! UP Board 10th Compartment/ Improvement Exam will conduct on 15 July, 2019. Total 16405 Candidates has applied till Last Date. Read full news from Image below…
UPMSP has uploaded High School/ Intermediate Exam. Syllabus for 2019 Exam. B Copies will be ended from 2020 Exams. Download Official UP Board 10th 12th Syllabus 2019 from links given below…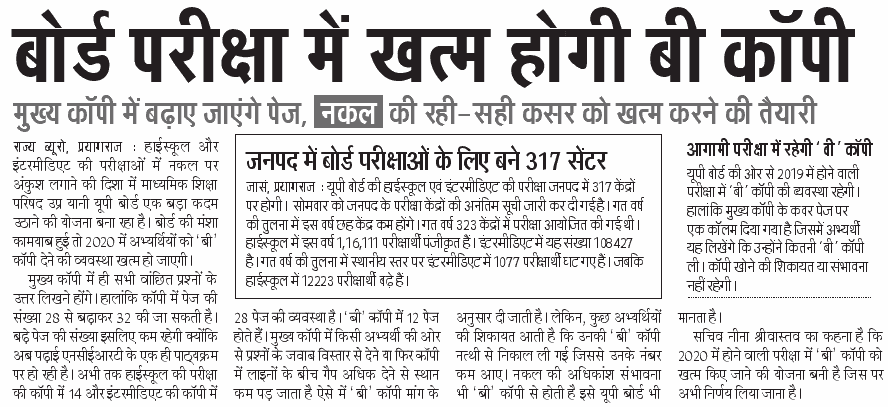 This Year in UP Board 12th Exams, There will be less questions. UPMSP has lessen part System in many subjects. There will be Part System in Hindi & Geography Subjects. Download Model Papers & read news below…
NOTE : This year, In Intermediate there will be only one paper of 39 Subjects while in High School, Only Paper will be of 36 Subjects..
Good News !! From 2019 Onwards, There will be only One Paper in 40 Subjects of UP Board 12th/ Intermediate Exam. Now UP Board Exams will complete in Short Time. Read Full News from Image below…
UP Board Syllabus will Follow CBSE Style. UP Government has done full planning regarding this & implementation is in its last Stage. After getting Approval from NCERT (Proposal has been sent), UP Board New Syllabus for 10th 12th will be applicable from 2019. Check Details of 10th 12th changed Subject List below. Yoga & Moral Value Subject will be introduced in UP Board Syllabus. After 25 Years, Vedic Maths will be introduced in UP Board Syllabus. Madhyamik Shiksha Parishad is directed to make Vedic Maths part of Syllabus. CBSE Pattern will also apply.
Madhyamik Shiksha Parishad, Uttar Pradesh conduct High School, Intermediate Board Exams Every Year. UP Board Syllabus is treated as toughest Syllabus from All. UPMSP has started to make changes in Syllabus & make exams more competitive. Changes were made to give relaxation to 11th & 12th Students. It is well known that Earlier UP Board 11th & 12th Syllabus were one & Same. Intermediate Students have to read whole 11th Syllabus in 12th also.
Changes in UP Board Syllabus for class 10th 12th : Following changes appear in UP Board 10th & 12th Exams :-
All Important Subjects of High School & Intermediate will be based on CBSE Pattern.
Students have to study with NCERT Books.
Books of changed Syllabus are available now
Changes will be made to 10th & 12th Syllabus.
All Other Subjects like Social Studies, Regional Languages, History, Geography, Music, Agriculture.
UP Board Syllabus will change for the Following Subjects of 10th & 12th.
UP Board High School changed Syllabus Subjects : Mathematics, Science, Social Studies, Home Science.
UP Board Intermediate changed Syllabus Subjects : Physics, Chemistry, Biology, Mathematics, Sociology, History, Civics, Psychology, Economics, Geography, Home Science, Computer.
UP Board 10th 12th Syllabus 2020 .pdf File :
Students can Download UP Board 9th, 10th, 11th, 12th Syllabus in .pdf File & in Hindi Language from the link given below……
Click Here to Download UP Board 12th New Syllabus 2019 .pdf File in Hindi
Click Here to Download UP Board 10th New Syllabus 2019.pdf File in Hindi
Click Here to Download UP Board Class 9th, 10th, 11th 12th New Syllabus 2018-2019 .pdf File in Hindi
UP Board Students need to have quick & regular watch on UPMSP Official Website regarding UP Board New Syllabus 2017. Detailed Information & Updates will also available on www.govtexamalert.com itself. Students can also leave their queries at disha@govtexamalert.com. Aspirants having queries related to UP Board New Syllabus 2020 can comment us through the comment box. We will try to solve your queries.
IMPORTANT LINKS
| | |
| --- | --- |
| Check UP Board Model Paper 2020 Class 10th 12th Practice Papers -Subject wise in Hindi | CLICK HERE |
| Check UP Board Time Table 2020 10th 12th Exam Scheme/ Schedule, Practical Dates | CLICK HERE |
| Check for UP Board Exam Tips 2020 10th 12th Board Exam Preparation Tips to Get Good Marks -Subject Wise | CLICK HERE |
For More Info Please Visit : http://www.upmsp.edu.in/