upsssc lower subordinate answer key 2019 pre exam download check upsssc lower subordinate pre exam answer key 2019 up lower exam answer key 2019 30 september 01 october exam check upsssc mandi lower subordinate answer sheet advt 01/2019  paper 1 & paper 2 objection form question paper chakbandi officer supply inspector
UPSSSC Lower Subordinate Answer Key 2019 Pre Exam Objection Form/ Question Paper
LATEST UPDATE dated 26.06.2020 : UPSSSC has announced Lower Subordinate Services Pre Exam Result. Total 15335 Candidates qualified for Mains Exam. Check UPSSSC Lower Subordinate Pre Exam Result from link below……
Click Here for UPSSSC Lower Subordinate Result 2019 2020 Pre Exam Cut Off Marks/ Merit List -Released Now
UPSSSC has released Final Answer key for Lower Subordinate Pre Exam 2019. Board has accepted Objections on 25 questions. In 23 Question Full Marks awarded to all candidates while answer of 2 ques changed. Expected Cut Off Marks for Lower Subordinate Pre Exam is available Now. Download Final Answer Keys & Official Notice from link given below……
Check UPSSSC Lower Subordinate Cut Off Marks 2019 Pre Exam Category wise Merit List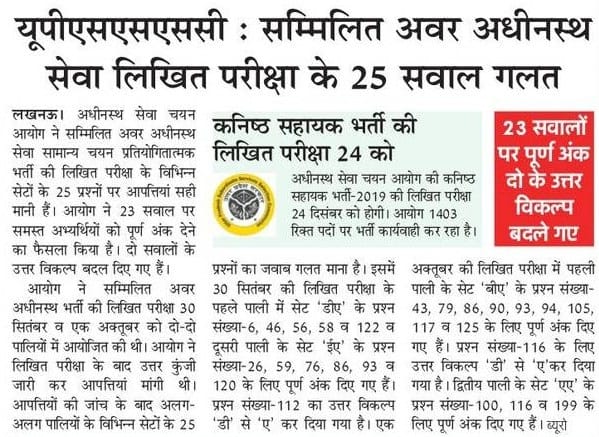 Less than 50% Candidates appeared in Lower Subordinate Pre Exam 2019 on 1st Day (30 September, 2019). Out of registered, 551686 Candidates for 1st day exam only 252207 Candidates appeared in Exam. read full news from Image below…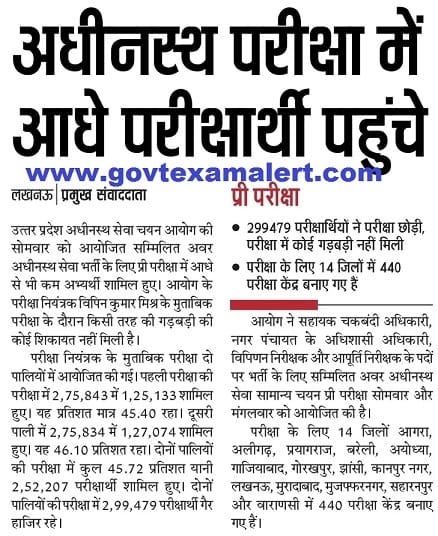 UPSSSC has uploaded Revised Final Answer keys for Lower Subordinate II 2016 Exam conducted on 28 July, 2019. 01 Mark is awarded to all candidates as 1 ques found wrong. Download Lower Subordinate Exam Final Answer Keys from link below….
with reference to advt. no 01-Exam/2019 & Advt No 22/2016 – UPSSSC has invited Online Applications for 672 Posts under Combined Lower Subordinate Service Exam 2019. Recruitment will be done for Assistant Chakbandi Officer (chakbandi adhikari)/ Assistant Rectification Officer, Marketing Inspector, Supply Inspector, Assistant Gardening Officer, Upper District Information Officer (Hindi), Executive Officer (Nagar Panchayat) and Revenue Inspector. UPSSSC conducted Pre Exam for advt 01/2019 on 30 September & 01 October 2019 while Written Exam for Advt 22/2016 conducted on 28 July, 2019 Information regarding UP Lower Subordinate Exam Answer Key 2019, UPSSSC Lower Subordinate Services Pre Exam Answer Keys, Cut Off Marks, Question Paper, Objection Form is provided in this Article…
Some Stats about UPSSSC Lower Subordinate Exam 2019 : As per Selection Process, Pre Exam conducted first. UPSSSC Lower Subordinate Services Competitive Exam was conducted for 672 Posts. Total 11.33 Lakh Aspirants has applied for these Posts. Exam was conducted at 13 Districts in State. Written Exam conducted on 30 September & o1 October in two shifts (Morning & Evening) all over UP State. Information regarding UP Lower Subordinate Exam Answer Sheet 2019 Set wise/ Shift wise is provided below….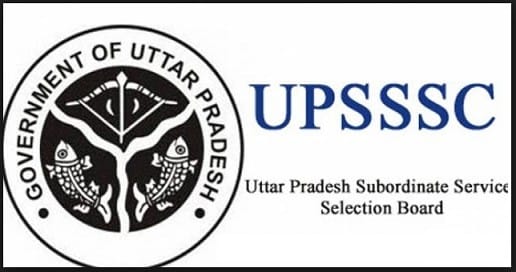 UPSSSC Answer key/ Question Paper Upload Process : UPSSSC has started to Submit Questions Papers along with OMR Sheet after Exam. Biometric Attendance was also introduced in this exam. UPSSSC will upload Question Paper Next Day after conducting of Exam. Process of uploading Answer Key & preparing Result is as follows :
After Completion of Exam, Next Day UPSSSC will upload shift wise Question paper on its Official Website.
After that UPSSSC will upload Official Answer Key & ask Obejctions regarding Exam Answer Key.
After resolving issues related to Answer Keys, UPSSSC will upload revised/ final Answer Keys.
UPSSSC Lower Subordinate Written Exam result will be based on Final Answer keys.
UPSSSC conducted Pre Written Exam as 1st Stage of Selection Process. Candidates who appeared in Written Exam for lower subordinate Posts, must be waiting for Answer Keys of Exam. UPSSSC will upload Answer Key Post wise & Exam, Shift wise on its official website. It is expected that UPSSSC Lower Exam Answer Key 2019 may upload & available within one week of exam. So All Candidates need to have regular watch on Official Website.
UPSSSC Lower Subordinate Pre Exam Final Answer Key Download Date : 02 December, 2019
Download Official Notice regarding Uploading of Final Answer Keys for Lower Subordinate Pre Exam 2019
UPSSSC Lower Subordinate Pre Exam Answer Key Download Date : 1st Week of October, 2019
UPSSSC Lower Subordinate Exam 2016 Final Answer Key 2019 Download Date : 20 September, 2019
UPSSSC Lower Subordinate Exam 2016 Answer Key 2019 Download Date : 31 July, 2019
Objection Form : After uploading of Answer Key, UPSSSC will asked for Objection regarding lower pcs exam answer key/ solution. Candidates has to send objections with valid proof. Objections will be available till Last Date mention in Answer Key Notice.
About UPSSSC Lower Subordinate Pre Written Exam: Exam was conducted under Offline Mode on OMR Sheets. There were 150 Questions in Exam comprising of 300 Marks in Pre Exam. There was Negative Marking of 0.25 Marks in Lower Pre Exam 2019. Time Duration of Exam was 2 Hours (120 Minutes). UPSSSC Lower Subordinate cut off  Marks will be decided from 300 Marks. Questions were asked from General Intelligence Test, General Knowledge, General Science, Arithmetic & general Hindi Subjects.
Aspirants need to have a regular watch on UPSSSC Website. UPSSSC Lower Subordinate Pre Exam Answer key/ OMR Sheets/ Objection Form. Latest News Updates will also available on www.govtexamalert.com. So Bookmark this Page (Press CTRL+D) & get regular UPSSSC Latest Updates. Candidates can leave your query regarding UPSSSC Lower Services Answer Key 2019 in the Comment Box. We will try to be responsive. Leave an email at Disha@govtexamalert.com for Assistance.
Download UPSSSC Lower Subordinate Pre Exam Final Answer Keys 2019 for 30 Sept & 01 Oct Exam : Available Now from 02.12.2019
Download UPSSSC Lower Subordinate Pre Exam Answer Keys & Question Paper 2019 for 30 Sept & 01 Oct Exam : Available Now
Download UPSSSC Official Notice regarding Uploading of Question Paper & Answer Keys for Lower Subordinate Pre Exam 2019
Download UPSSSC Lower Subordinate II 2016 Exam Revised/ Final Answer keys of 28 July Exam : Available Now
Download UPSSSC Lower Subordinate II 2016 Exam Answer keys/ Question Paper/ Objections of 28 July Exam : Available Now
Check UPSSSC Lower Subordinate Result 2019 Advt. No. 22/2016 Cut Off Marks/ Merit List
For More Details Click Here >>> http://upsssc.gov.in/