ugc net syllabus 2023 nta ugc net online exam syllabus nta net revised syllabus 2023 Paper 1 Paper 2 online exam ugc net syllabus june exam national eligibility test ugc net december exam pattern UGC-NET for Junior Research Fellowship & Eligibility for Assistant Professor ugc net June 2023 syllabus subject wise pdf file download
NTA UGC NET Syllabus 2023 Paper 1 & Paper 2 Exam Pattern
LATEST UPDATE : NTA will Online Applications for UGC NET December 2023 Cycle. Candidates can apply online from October, 2023. NTA NET June 2024 Exam will conduct in 10 to 24 June 2023 while UGC NET December 2023 Exam will conduct from 06 to 22 December 2023. Download Notice & Apply Online from link below…
Check UGC NET Notification 2023 NTA NET December Exam Online Application
NTA has increase Time Duration of NET 2023 Exam. Now Both Papers will be of 03 Hours. Check UGC NET Syllabus 2023 & New Exam Pattern below…..University Grants Commission (UGC) has updated the syllabus of all NET subjects (including Paper-I on General Awareness). The updated syllabus of UGC-NET will Applicable for upcoming exams from June 2022. Download Updates UGC NET Syllabus 2023 from link below…..
Download Official Public Notice regarding NTA UGC NET Exam Updated Syllabus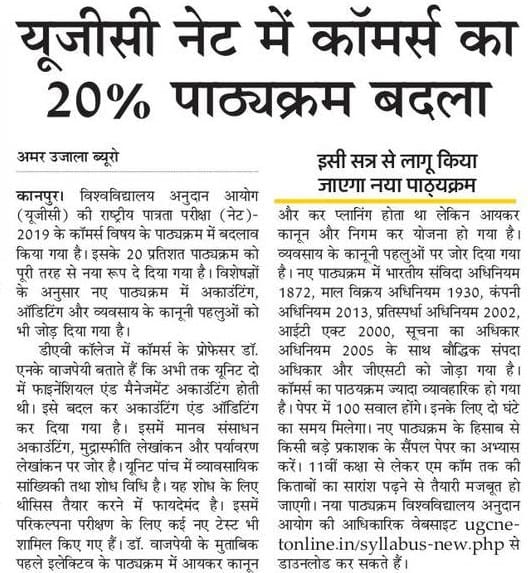 There will be No Negative Marking in UGC NET Exam. NTA UGC NET Exam will conduct under Online Mode. UGC NET Exam will conduct twice in a Year. Candidates can also give Mock test for UGC NET Exam. Get Full Details of New Pattern & Syllabus below…..
The University Grants Commission (UGC) has entrusted the responsibility of conducting UGC-NET to the NTA. UGC-NET is a test being conducted to determine the eligibility 'only for Assistant Professor' and 'for Junior Research Fellowship and Assistant Professor both' in Indian universities and colleges. UGC-NET shall be conducted by the NTA in December 2023 in subjects given at selected Cities of Examination centers spread across the country. Get Details of UGC NET 2023 Exam Syllabus from Given Link…
Candidates who are going to Appear in National Eligibility Test 2023 for Assistant Professor and Junior Research Fellowship must  be looking for Detailed Subject wise Syllabus. In This Article Candidates will be able to get full Details of UGC NET New Exam Pattern 2023, UGC NET Syllabus 2023 Paper 1 and Paper 2. Candidates will be able to Download Subject wise Syllabus, pdf File. Get Details of Exam Pattern Below….
UGC NET Exam Pattern 2023 :- NTA has made some changes in UGC NET Exam Pattern 2023. Now There will be two Papers in Exam. UGC NET Exam will conduct under online mode. Check Detailed Exam Pattern below….
Mode of Examination : The Examination shall only be conducted as Computer Based Test (CBT). Wherever Online Examination has been used elsewhere in this booklet, NTA's UGC-NET application form, it means CBT only.
Pattern : The Test will consist of two papers. Both the papers will consist of only objective type questions and will be attempted with a break of 30 minutes between them.
Paper
Marks
Number of Questions
Duration
1
100
50 Questions which all are compulsory
03 Hours

1st shift : (9.30 am to 12.30 am)
2nd shift : (2.30 pm to 5.30 pm)

2
200
100 Questions which all are compulsory
3 hours

1st shift : (9.30 am to 12.30 am)
2nd shift : (2.30 pm to 5.30 pm)
Paper-I The questions in Paper I intends to assess the teaching/ research aptitude of the candidate. It will primarily be designed to test reasoning ability, reading comprehension, divergent thinking and general awareness of the candidate.
Paper-II shall consist of 100 objective type compulsory questions each carrying 2 marks which will be based on the subject selected by the candidate. All the questions of Paper – II will be compulsory, covering entire syllabus of earlier Paper II & Paper – III (including all electives, without options).
Note:
(a) For each correct response the candidate will get 2 marks. There are no negative marks for incorrect response. No marks will be given for unanswered/ marked for review questions.
(b) If a question for any reason is found to be incorrect, the benefit of marks will be given to only those candidates who attempted the question.
Important Note :- General Candidates are Required to Obtain 40% marks in both Papers and OBC (Non-creamy layer)/PwD/SC/ST Candidates are Required to 35% marks in both Papers.
UGC NET Online Exam Normalization Process : To address any variation in difficulty levels of question papers across different shifts, the scores of candidates will be normalized by using the formula published by NTA. Download Official Notice regarding Normalization Method used in NET 2019 Exam.
Download NTA Official notice regarding UGC NET Online Exam Normalization Method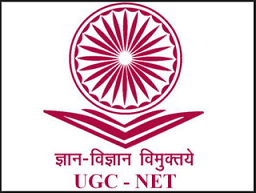 UGC NET Exam Syllabus 2023 :-
UGC NET Paper 1 Syllabus 2023
Each Section gets same weightage : Five Questions and 10 marks from each section. Whenever pictorial Questions are set for the sighted Candidates a Passage Followed by Equal Number of Questions should be set for the Visually handicapped Candidates.
I. Teaching Aptitude  : Teaching – Nature, objectives, characteristics and basic requirements, Learner's characteristics, Factors affecting teaching, Methods of teaching, Teaching aids, Evaluation systems.
II. Research Aptitude : Research-Meaning, characteristics and types, Steps of research, Methods of research, Research Ethics, Paper, article, workshop, seminar, conference and symposium, Thesis writing-its characteristics and format.
III. Reading Comprehension : A passage to be set with questions to be answered.
IV. Communication : Communication – Nature, characteristics, types, barriers and effective classroom communication.
V. Reasoning (Including Mathematical) : Number series, letter series, codes, Relationships., classification.
VI. Logical Reasoning : Understanding the structure of arguments, Evaluating and distinguishing deductive and inductive reasoning,  Verbal analogies – Word analogy Applied analogy, Verbal classification, Reasoning Logical Diagrams – Simple diagrammatic relationship, multi- diagrammatic
relationship, Vein diagram, Analytical Reasoning.
VII. Data Interpretation : Sources, acquisition and interpretation of data, Quantitative and qualitative data, Graphical representation and mapping of data.
VIII. Information and Communication Technology (ICT) : ICT – meaning, advantages, disadvantages and uses, General abbreviations and terminology, Basics of internet and e-mailing.
IX. People and Environment : People and environment interaction, Sources of pollution, Pollutants and their impact on human life, exploitation of natural and energy resources, Natural hazards and mitigation
X. Higher Education System : Governance, Police And Administration : Structure of the institutions for higher learning and research in India; formal and distance education; professional/technical and general education; value education – governance, polity and administration; concept, institution as and their interactions.
Click Here to Download CBSE UGC NET 2023 Exam Paper 1 Syllabus .pdf File
UGC NET Paper 2 Syllabus 2023
CBSE will conduct paper 2 Exam Subject wise. Paper 2 will consist of Following subjects :- Economics, Political Science, Philosophy, Psychology, Sociology, History, Anthropology, Commerce, Education, Social Work, Defence and Strategic Studies, Home Science, Public Administration, Population Studies, Music, Management, Maithili, Bengali, Hindi, Kannada, Malyalam, Odia, Punjabi, Sanskriti, Tamil, Telugu, Urdu, Arabic, English, Linguistics, Chinese, Dogri, Nepali, Manipuri, Assamese, Gujrati, Marathi, French, Spanish, Russian, Persian, Rajasthani, German, Japanese, Adult Education/Continuing Education/Andragogy/Non Formal Education, Physical Education, Arab Culture and Islamic Studies, Indian Culture, Labour Welfare/Personnel Management/Industrial Relations/Labour and Social Welfare/Human Resource Management, Law, Library and Information Science, Buddhist, Jaina, Gandhian and Peace Studies, Comparative Study of Religions, Mass Communication and Journalism, Dance, Museology & Conservation, Archaeology, Criminology, Tribal and Regional Language/Literature, Folk Literature, Comparative Literature, Sanskrit Traditional Subjects (including Jyotisha/Sidhanta Jyotisha/Navya Vyakarna/Vyakarna/Mimamsa/Navya Nyaya/Sankhya Yoga/Tulanatmaka Darsana / Shukla Yajurveda/ Madhva Vedanta/ Dharma Sastra/ Sahitya/ Purana-itihasa/Agama/Advaita Vedanta), Women Studies, Visual Art (including Drawing & Painting/Sculpture/Graphics/Applies Art/History of Art), Geography, Social Medicine & Community Health, Forensic Science, Pali, Kashmiri, Konkani, Computer Science and Applications, Electronic Science, Environmental Sciences, International and Area Studies, Prakrit, Human Rights and Duties, Tourism Administration and Management, Bodo, Santali, Karnatik Music (Vocal Instrument, Percussion, Rabindra Sangeet, Percussion Instruments, Drama/ Theatre, Yoga
NOTE : All questions of Paper – II  will be compulsory, covering entire syllabus (including all electives, without options). Syllabi for all NET subjects can be downloaded from the UGC website www.ugc.ac.in and are also available in the libraries of all Indian Universities. For any Query/ Assistance leave a Comment in the Box below. You can also leave a message on our Facebook Page (www.facebook.com/jobdisha) OR Leave a mail to [email protected]
Click Here to Download NTA UGC NET Exam Paper 2 Subject wise New revised Syllabus .pdf File
Click Here to Download NTA UGC NET Previous Question Papers Paper 1 Paper 2 NET Exam
For More Details Visit Official Website