up assistant teacher syllabus 2023 exam pattern up primary teacher exam syllabus 2023 pdf file up super tet syllabus shiksha mitra up assistant teacher exam pattern Up teacher eligibility Exam Syllabus Exam Pattern up 50000 teacher bharti syllabus subject wise paper 1 paper 2 previous papers
UP Assistant Teacher Syllabus 2023 Super Tet Exam Pattern
LATEST UPDATE : Big News !! UP Basic Education Minister has stated that There will be recruitment on New 17000 Assistant Primary Teacher Posts. There can be 63000+Vacancies for Primary Teacher. Super TET Notification may release in year 2023. Get Super TET 2022 Exam Updates from link below…..
Check UP Assistant Teacher Recruitment Exam Notification 2023 Super TET Online Application Dates
Candidates who are going to appear in Teacher Bharti Eligibility Exam, they can read valuable tips for Science, Enviromental Studies, Social Studies, Child Development and Education Method. Get Tips from Image below….
LATEST UP Assistant Teacher Bharti Exam Tips News :  In UP 69000 Assistant teacher Bharti 2019, Most of the questions will be from Hindi, Sanskrit & English Language. Maths will play important role in qualifying exam. Check Important Tips & Topics below….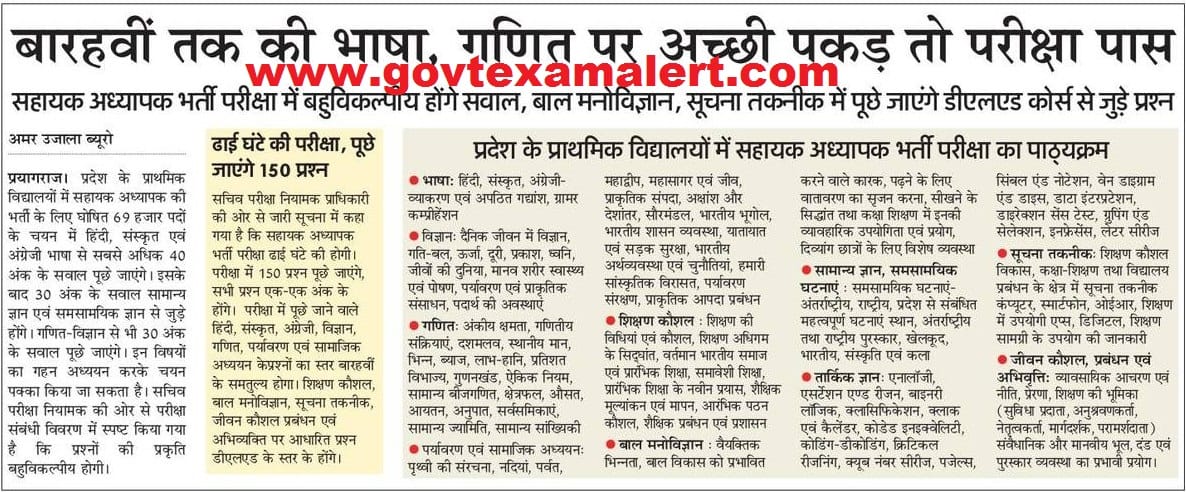 Big News !! There will be No Minimum Qualifying Marks Criteria in upcoming 69000 teacher Vacancies thus shiksha mitra's have good chances for selection as weightage marks will be awarded to them. Certificate of Teacher Bharti Exam will also not provided. Read full news from Image below….
Big News !! Questions in UP Teacher Exam will ask in Hindi & English both but Candidates have to give their Answers in Hindi Only. Candidates can give only English Questions answer in English Language.
UP Basic Primary Teacher New Selection Process : UP Cabinet has changed the Assistant teacher Selection Process for Recruitment. Check UP Primary Teacher New Selection Process step by step below….
Written Exam (60 Marks)
Educational Qualification (40 Marks)
Document Verification
Allotment (Choice & Priority wise)
Many Candidates will apply for these Assistant Teacher Posts. As Weightage for Written Exam is more, so candidates need to get Good Marks in Written Exam. It is better for Candidates to start preparing for Exam from Today. Your search for up assistant teacher syllabus, up primary teacher syllabus, up assistant teacher exam pattern is ended now. In this Article we are providing you Latest UP Assistant Teacher Syllabus & Proposed Exam Pattern which will be implemented soon.
UP Assistant Teacher Exam Pattern 2023 :
Written Exam will conduct under Offline Mode. There will be 150 Questions in Exam comprises of 150 Marks.
UP Assistant Teacher Exam can be Objective Type. There will be Multiple Choice Type Questions in Exam.
Time Duration for UP Assistant Teacher Exam is 02 Hour 30 Minutes(150 Minutes).
There will be no minimum qualifying criteria for 69000 teacher bharti 2022.
Let's have a look on the Exam Pattern below…..
There will be 80 Questions of 12th Level from Hindi, English, Science, Maths, Environmental & Social Studies.
There will be 35 Questions of BTC/ D.El.Ed Level from Teaching Skills, Child Psychology, Information Technology, Life Skill Management & Aptitude.
There will be 35 Questions from Current Affairs & Reasoning Aptitude.
Distribution of Subject wise Questions/ Marks will be as Follows :
| | |
| --- | --- |
| Name of Subject | Questions/ Marks |
| Language (Hindi, Sanskrit & English) | 40 |
| Science | 10 |
| Mathematics | 20 |
| Environmental & Social Studies | 10 |
| Teaching Skills | 10 |
| Child Psychology | 10 |
| Information Technology | 05 |
| Life Skill Management & Aptitude | 10 |
| Current Affairs | 30 |
| Reasoning Aptitude | 05 |
UP Assistant Teacher Syllabus 2023 :
General Hindi : अलंकार, समास, विलोम, पर्यायवाची, रस, संधियां, तद्भव तत्सम, लोकोक्तियाँ, मुहावरे, वाक्यांशों के लिए एक शब्द, अनेकार्थी शब्द वाक्य संशोधन -लिंग, वचन, कारक, काल, वर्तनी, त्रुटि से सम्बंधित
GENERAL ENGLISH :
(1) Comprehension.
(2) Active Voice and Passive Voice.
(3) Parts of Speech.
(4) Transformation of Sentences.
(5) Direct and Indirect Speech.
(6) Punctuation and Spellings.
(7) Words Meanings.
(8) Vocabulary & usage.
(9) Idioms and Phrases.
(10) Fill in the Blanks.
General Science :– Questions on General Science will cover general appreciation and understanding of Science including matters of every day observation and experience, as may be expected of a well educated person, who has not made a special study of any scientific discipline. Questions will be from Science in Daily use, Speed, Force, Energy, Distance, Light, Sound, Biology, Human Body, Health, Cleanliness & Nutrients, Environment & Natural Resources, Matter & Its states.
Mathematics  : This paper will include questions on problems relating to Number Systems, Computation of Whole Numbers, Decimals and Fractions and relationship between Numbers, Fundamental arithmetical operations, Percentages, Ratio and Proportion, Averages, Interest, Profit and Loss, Discount, Area, Average, Ratio, Basic Geometry, Time and Distance, Ratio and Time, Time and Work & Basic Statistics etc.
Environment & Social Study : Structure of Earth, Rivers, Mountains, Continents, Ocean & creatures, Natural Resources, Lattitude & Longitude, Solar System, Indian Geography, Indian Freedom Movement, Indian Social Reformers, Indian Constitution, Our Administration, Traffic & Road Safety, Economics, Our Cultural Heritage, Environmental Protection, Natural Disaster Management.
Teaching Skills : Method of Teaching & Skills, Principal of teaching & learning, Present Indian Society & Elementary Education, inclusive education, New Efforts for Elementary Education, Educational Evaluation & Measurement, Early Reading Skills, Educational Management & Administration.
Child Psychology : Individual Variation, Factors to influence Child Growth, Identification of Learning Ability, Creation of Educational Environment, Principal of Learning & Usefulness in Class Teaching, Special Arrangements for Handicapped Candidates.
General Knowledge & Current Affairs : Important National & International Current Affairs, Important Current Affairs of Uttar Pradesh, Place, Personalities, Books, National & International Sports Awards, Indian Culture & Art etc.
Reasoning : It would include questions of non-verbal type. The test will include questions on similarities and differences, space visualization, problem solving, analysis, judgment, decision making, visual memory, discriminating observation, relationship concepts, figure classification, arithmetical number series, non-verbal series etc. The test will also include questions designed to test the candidate's abilities to deal with abstract ideas and symbols and their relationship, arithmetical computation and other analytical functions.
Information Technology : Teaching Skill Development, IT in Class Teaching & School Management, Computer, Internet, Smartphone, Open Education Resource, Important Apps for Teaching, Information of Use of Digital Education Material.
Life Skill/ Management & Attitude : Business Practices and Policy, Motivation, Importance of Teacher (Feature Provider, Observant, Leadership, Path Provider, Consultant), Constitutional & Human Value, Effective Use of Punishment & Reward Arrangment.
Click Here to Download Detailed UP Assistant Primary Teacher Syllabus Subject wise
For More Details Please Click Here
You can leave your query regarding UP Assistant Teacher Syllabus 2022 in the Comment Box. We will try to be responsive. Leave an email at [email protected] for Assistance.