up police constable result 2019 check here up police constable result 2018-2019 up police constable result date 2019 uppbpb constable bharti 2018 result up police constable written exam result physical test up police sipahi bharti result 2019 up police constable result date 2019 latest updates list of selected candidates
UP Police Constable Result 2019 UPP Sipahi Bharti Result Date
LATEST UPDATE dated 17.11.2019 : Good News !! UP Police Constable Written Exam Result for 49568 Vacancies may announce on 18 November, 2019. Race will conduct in December month. As per news Result is prepared & Final Result may announce in January, 2020. Training for Selected Candidates will start in May 2020. Read full news from Image below….
Check UP Police Constable Cut Off Marks 2019 UPP Sipahi Bharti Merit List -Category wise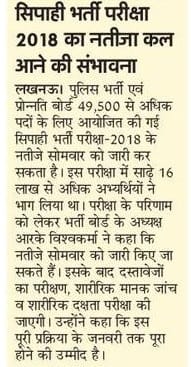 UP Police has uploaded Constable Male Female Exam Revised Final Answer keys for Exam held on 27, 28 January 2019. Final Answer Key is available upto 12.11.2019. Download UPP Constable Final revised Answer Key 2019 from link given below….
Download UP Police Constable Final Answer Key 2019 UPP Sipahi Bharti Exam
Click Here for UP Police 5623 Sub Inspector (SI) Male/ Female Recruitment 2019-20 Latest Update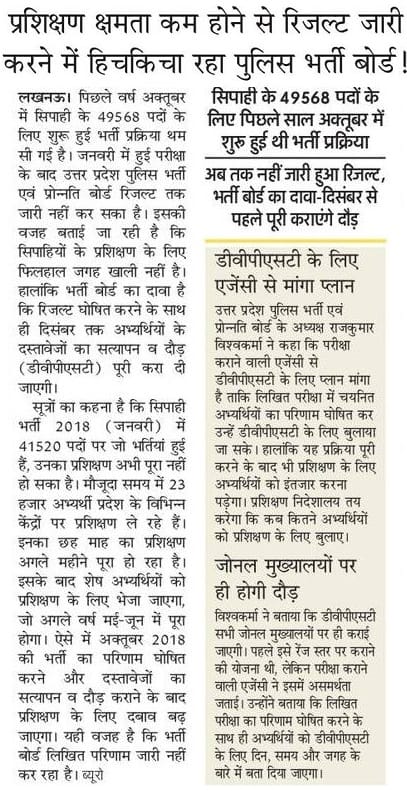 UP Police has announced Result for non selected candidates for Constable Posts after written exam, DV/ PST/ PET. Check Result from link below…
आरक्षी नागरिक पुलिस एवं आरक्षी पी0ए0सी0 के पदों पर सीधी भर्ती-2018 के अन्तर्गत तीनों चरण क्रमश; ऑफलाइन लिखित परीक्षा अभिलेखो की सविक्षा/शारीरिक मानक परीक्षण तथा शारीरिक दक्षता परीक्षा में सफल किन्तु अंतिम चयन सूची में अचयनित रहे अभ्यर्थियों का परीक्षा परिणाम
More than 3.83 Lac Candidates has left Constable Written Test. 22,78,184 Candidates has applied for Constable Male, Female Posts but 18,94,766 Candidates appeared in Exam. UP Police may announce Constable Bharti 2018 Result in the month of December, 2018. Candidates can read full news from image given below……….
UP Police Recruitment Board has invited Online Applications for 41250 Constable Male Female Posts in Year 2018. Selection will be based on Written Exam This Year. UPP has earlier invited Online Applications for 28916 Constable Male Posts & 5800 Constable Female Posts in Year 2015. Earlier Selection was based on Merit List & Race. Candidates were called for Document Verification after Race but this Process has been stopped by newly formed government. UP Police Constable Exam was conducted on 18, 19 June 2018 but due to paper leak Exam of 2nd Shift was re conducted again. UP Police Constable Re Exam conducted on 25, 26 October, 2018. Information regarding UP Police Constable Result 2018 Information is available here. UPP has announced 49568 Vacancies for Constable Male Female Posts. Written Exam was conducted on 27, 28 January 2019.
UP Police Constable Exam Result 2019 : UP Police has conducted Constable Exam Physical Test & Document Verification after declaring Merit. UPPBPB will announce the Final Result for Constable Posts soon. Roll No. wise List of Selected Candidates will be available on UP Police Official Website. Candidates have to take regular watch on UPPolice Official Website.
UP Police Constable Result Date Written Exam : 18 November, 2019 (Expected)
UP Police Constable Final Result Date 2018 : 19 February, 2019
UP Police Constable Result Date 2018 Written Exam : 05 December, 2018
How to Check UP Police Constable Bharti Result :
Aspirants can Check UP Police Constable Result 2019 from the following Easy Steps :
At First Visit Official UP Police website (http://uppbpb.gov.in/).
On the Home Page you will find Link to Check Constable Examination 2019 Result.
On Clicking that Link you will redirect to UPP Constable Result Download Page.
A pdf File will be opened. in that pdf file Roll No. wise & category wise UP police constable result will be given.
You can Download that pdf File or take print out as a reference to next stage.
UP Police Constable Male/ Female 2018 Result Links
Download UP Police Official Notice regarding 41520 Constable Bharti Final Result 2019
सूची-1:- आरक्षी नागरिक पुलिस एंव आरक्षी पीएसी के पद पर कुल-41520 अभ्यर्थियो की संयुक्त सूची रजिस्ट्रेशन नम्बर के बढते हुये क्रम में।
सूची-2:- आरक्षी नागरिक पुलिस अनारक्षित श्रेणी के अंतर्गत चयनित 11761 अभ्यर्थियो की सूची।
सूची-3:- आरक्षी नागरिक पुलिस अन्य पिछड़ा वर्ग श्रेणी के अंतर्गत चयनित 6350 अभ्यर्थियो की सूची।
सूची-4:- आरक्षी नागरिक पुलिस अनुसूचित जाति श्रेणी के अंतर्गत चयनित 4939 अभ्यर्थियो की सूची।
सूची-5:- आरक्षी नागरिक पुलिस अनुसूचित जन जाति श्रेणी के अंतर्गत चयनित 470 अभ्यर्थियो की सूची।
सूची-6:- आरक्षी पीएसी अनारक्षित श्रेणी के अंतर्गत चयनित 9000 अभ्यर्थियो की सूची।
सूची-7:- आरक्षी पीएसी अन्य पिछड़ा वर्ग श्रेणी के अंतर्गत चयनित 4860 अभ्यर्थियो की सूची।
सूची-8:- आरक्षी पीएसी अनुसूचित जाति श्रेणी के अंतर्गत चयनित 3780 अभ्यर्थियो की सूची।
सूची-9:- आरक्षी पीएसी अनुसूचित जन जाति श्रेणी के अंतर्गत चयनित 360 अभ्यर्थियो की सूची।
Click Here to Check UP Police Constable Male/ Female Written Exam result 2018 Merit List : Declared NOW
UP Police Constable Aspirants need to have regular watch on UP Police Official website. UP Police Constable Result, Final Merit List updates will available on this Website. Bookmark this Page (CTRL+D) for regular updates.
Download UP Police Constable Answer Key 2019 UPP Sipahi Bharti Male Female Exam
To Get More Info of UPP Constable Result 2018 Click Here