iof chargeman recruitment 2023 online application form for 1704 posts ordnance factories chargeman recruitment 2023 apply online Direct Recruitment Chargeman ( Non-Gazetted Group 'B') Eligibility qualification apply dates iof chargeman exam date 2023
IOF Chargeman Recruitment 2023 Ordnance Factories Online Application Form- 2075 Vacancies
LATEST UPDATE dated 04.05.2023 : Good News !! Indian Navy has issued Notification for Chargemen Posts. Candidates can apply online from 15 May 2023. Download Official Notice from link below……
Indian Navy 372 Chargeman Recruitment 2023 INCET CM Apply Online
Indian Ordnance Factory will soon make recruitment on 1704 Chargeman Post & 371 Tradesman Posts. Recruitment Process will start soon. Read full news from Image below…Ordnance Factory has made clear that No such advertisement for Chargeman has been issued by OFB/OFRC. Kindly note that all Recruitment Advertisements of OFB/OFRC are published only on this OFB official Website (http://ofbindia.gov.in). Download Notice below…
Check Army Ordnance Corps 3068 Tradesman Recruitment 2023 Fireman Apply Online
Download Ordnance Factory Official Notice regarding Chargeman Vacancy Notification 2019
Indian Ordnance Factory will invite Online Applications for Chargeman Posts under Direct Recruitment Chargeman (Non-Gazetted Group 'B').Candidates are advised to go through Full Notice, available in the on-line application site before submitting application. Number of call centre: 07104-220075, 220095, 220061, 220070 from 0900 hrs to 1730 Hrs during weekdays (Saturday and Sunday are Holidays). Details of Vacancies, Age Limit, Educational Qualification, Fee & How to Apply is given below…
Details of Vacancies : Total 2075 Posts (Expected). There will be vacancies for following Posts :
Chargeman : 1704 Posts. Trade wise vacancies are as follows :
Mechanical : 933 Posts
Information Technology : 29 Posts
Electrical : 149 Posts
Chemical : 312 Posts
Civil : 45 Posts
Metallurgy : 56
Clothing Technology : 36 Posts
Leather Technology : 04 Posts
Non Technical Store : 48 Posts
Non Technical OTS : 64 Posts
Automoblie : 04 Posts
Electronics : 24 Posts
Tradesman Semi Skilled (Group C) : 371 Posts
There will recruitment for Chargeman of Following Branches : MECHANICAL, INFORMATION TECHNOLOGY, ELECTRICAL, CHEMICAL, CIVIL, METALLURGY, CLOTHING TECHNOLOGY, LEATHER TECHNOLOGY, NON TECHNICAL (STORES), NON TECHNICAL (OTS)*, AUTOMOBILE, ELECTRONICS.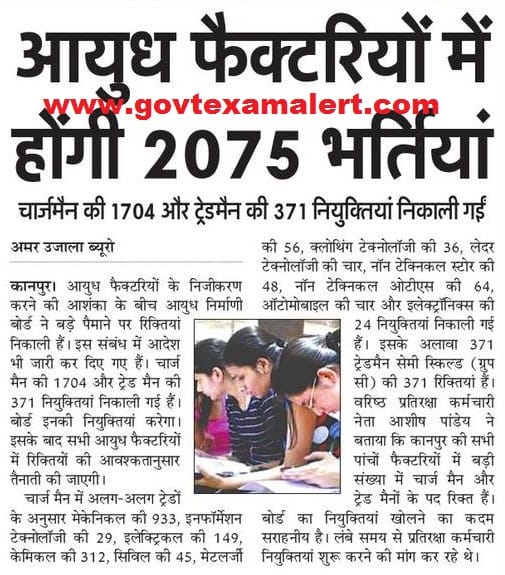 NOTE : The number of vacancies mentioned above is provisional. Vacancies are at different Units of Ordnance Factories (Details available in Full Notice). In the PH category, only indicated sub-categories (OL/OA, PD) are acceptable. * OTS: Other than Stores.
Age Limit :
UR/ General : upto 27 Years
OBC : 27 Years + 3 Year Age Relaxation
SC : 27 Years + 5 Year Age Relaxation
ST : 27 Years + 5 Year Age Relaxation
Educational Qualification :
MECHANICAL ENGG. ELECTRICAL ENGG. CIVIL ENGG. AUTOMOBILE ELECTRONICS : Three years Diploma or Equivalent in the relevant Discipline duly approved by AICTE OR A Graduate Degree in Engineering
CHEMICAL METTALURGY CLOTHING TECHNOLOGY LEATHER TECHNOLOGY : Three years Diploma or Equivalent in the relevant Discipline duly approved by AICTE OR BSc degree with General Chemistry as one of the major subject.
INFORMATION TECHNOLOGY : Must pass "A" level competency certificate course or equivalent qualification in Computer Science duly recognised by The Govt. of India.
NON TECHNICAL (STORES) & OTS : A Graduate Degree in Engineering/ Technical/ Humanities/ Science/ Commerce/ Law etc. from a recognised University.
PAY SCALE : Pay Band : PB-2 (₹.9300-34800) + Grade Pay: ₹. 4200
APPLICATION FEE (NON-REFUNDABLE) : ₹. 100/-. Through bank Remittance only in favour of, PRINCIPAL DIRECTOR, RECRUITMENT FUND OFRB, AMBAJHARI- NAGPUR. However no fee will be charged for SC/ST, Women and Physically Handicapped (PH) candidates. In addition, candidates have to pay ₹. 50/-. for Off-line Bank Transaction Charges to SBI.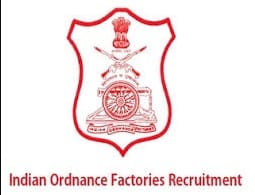 HOW TO APPLY :
No manual application would be entertained. The process of online application will be done through http://www.i-register.org/ioforeg/index.php
Detailed instructions are available at the LINK site. It will be easy for candidate if he/she can carry scanned copy of his/her recent passport photo and signature for on-line submission.
 Print out of on line Application has to be taken. Applicant has to sign at appropriate place. Along with original copy of Payment Challan, application has to be despatched to a Postal address given in the print out of application form. OFB (Ordnance Factory Board) will not be responsible for any postal delay.
Online Applications will start soon. Dates will announce later.
LAST DATE : announce later
Download Ordnance Factory Chargeman Official Notification .pdf file
For More Details Click Here >> http://ofbindia.gov.in/